There are lots of harnesses out there with different types and brand names. As a beginning woman climber, how do we know what to look for? You are in luck I wrote this article, a Black Diamond Primrose Review, just for you.
As the owner of this website, I tracked down special deals for some products or services mentioned herein. As an Amazon Associate, I earn from qualifying purchases. When you use the link from this page to make a purchase, I may receive a small commission to support this website, and you may receive a great bargain – Full Disclosure.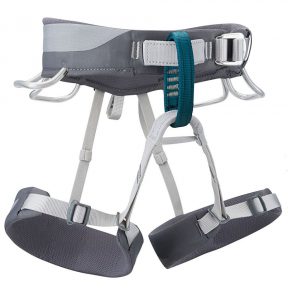 The Black Diamond Primrose is a very popular woman climbing harness. I was introduced to this harness when I first learned how to climb. The interesting thing was, the primrose was recommended for my son. He was eleven at the time. Because of his small waist, the Primrose X-Small fitted him perfectly.
PROS
The Primrose is a nice all-around type of harness. It is great for indoor and outdoor climbing. The four pressure-molded gear loops are great to carry your gear for outdoor climbing and at the same time, the harness itself is 12 ounces which is nice and light for indoor climbing.
The easy and adjustable leg loops and the rear elastic risers are customized for your own body type. My son still fits this harness from the age of eleven to seventeen (height – 5'9″). He used it for indoor climbing, outdoor climbing, and six years of constant youth competitions. After six years of straight climbing, the Primrose still held up with moderate wear and tear. We got him another harness for his seventeen birthday. With reluctance, he retired the Primrose.
The lining is a soft, breathable, and quick-drying fabric. This helps the harness stay dry and light. Not only is this harness is a great beginner harness for women but it is sizable for tween and teenagers as well.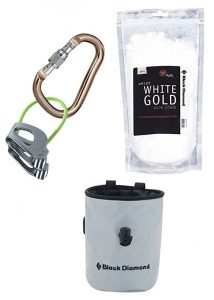 With a bonus, the Primrose comes in a nice package deal with an ATC belay device, RockLock carabiner, a chalk bag, and chalk shot. The only left to purchase is a pair of climbing shoes and rope when you are ready for lead climbing.
==> Click here to get your Black Diamond Primrose Women harness package deal!
CONS
Although Primrose is a popular and durable harness there are still a few complaints among climbers. If you sweat a lot, you may find that it can get a little sweaty under the padding. There were also a number of climbers unhappy with the sizing of the harness. Sometimes when the waist fits well and the thigh may not fit as well and vice versa. Here is a chart from Black Diamond to help you determine what size works best for your dimensions.

Unfortunately, this particular package comes only in gray or smoke color so there is not a range of colors to pick from. The same color issue applies to the chalk bag as well. You will receive a chalk bag in the color that is available in stock. =(
FEATURES AND SPECS:
Average Customer Rank: 4.9/5
Primrose Harness

All-around
four pressure-molded gear loop
haul loop
adjustable leg loops
adjustable rear elastic risers
Weight: 350g or 12oz
Abrasion-resistant nylon shell
Soft, breathable, and quick-drying lining
Two bands of webbing distribute pressure evenly across the waist belt
Supportive continuous foam insert for total comfort
Lower edge binding for added abrasion resistance

ATC belay/rappel device
RockLock Screwgate carabiner
Black Diamond chalk bag
Black Diamond white gold chalk shot (little chalk ball)
Available sizes: X-small, Small, Medium, Large
Where to Buy: Amazon.com
RECAP OF SUMMARY
The Black Diamond Primrose is a great all-around harness for women and children (from eleven to seventeen). They are comfortable, lightweight, and custom adjustable for your size. The package comes with the harness, the ATC belay device, a chalk bag, and a chalk ball. If you do not mind only a gray color harness, then click the Primrose package.
If you already have all the accessories and only want the Primrose harness, click here to the harness ONLY. There are more colors to choose from.
I hope this article helps you with your search for a climbing harness. If you have any questions at all, please leave me a message below. I will do my best to get back to you with an answer or guide you to where you can find the answers.
Please follow and like us: