What is a crash pad? I learned how to rock climb in a climbing gym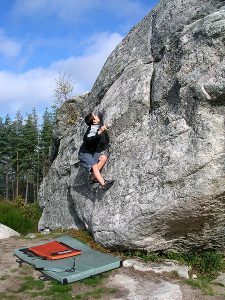 and the floor is usually covered by thick pads or mattes so a personal crash pad was not needed to climb indoor. My first exposure to a crash pad was climbing outdoor with my son and his teammates at Horse pen 40, a popular bouldering area in Steele, Alabama.
A crash pad is a cushion foam pad used for a soft landing when falling off a rock in bouldering. The name in itself is self explanatory. It is a pad where you can safely crash or fall onto. We place the pad under the climber and often over uneven ground, stumps, or rocks. It protects the climber's fall from a the hard ground as well as any protruding objects on the ground.
History of the Crash Pads
I found an interesting little history of the crash pad in a History-of-Crashpads  forum so I thought I summarized it here to share.
Before crash pads existed during the 1930s, climbers such as Pierre Allain (a French alpinist who began climbing in the 1920s), used straw-mats like thick doormats. By the 1970s, carpet square were used by major US bouldering areas to help keep the climbing shoes clean and not so much padding.
Neal Kaptain, a top boulderer and founder of Rock and Ice Magazine, was maybe the first to make a dedicated pad for bouldering. His pads have layers of ensolite  and carpet foam between carpets. They were briefcase sized with a hinge in the middle along with carrying handles.
This idea was passed on to Bruce Pottenger of Kinnaloa (a garage company that made t-shirts and chalk bags) to create a commercial version called a "sketchpad." Then Metolius quickly continued the idea with their own version of a crash pad.
In the late 1980s, John Shermin, who created the V-scale for bouldering, visited Hueco Tanks State Park to rope climb but discovered and fell in love with bouldering. He later published a list of classic boulders in Hueco and created the V-scale for bouldering grades to help sell his books.
With the new grades and the invention of crash pads, bouldering became more popular and appealing. With the crash pads, climbers can climb more hard problems multiple times with less injuries.


Characteristics of a Crash Pad
What crash pad works best for you?
==> Click HERE for My crash pad reviews <==
There are different types and styles of crash pads with different bells and whistles available.  Of course there are pros and cons to each types or styles. I summarized the different characteristics of the pads to help you choose the best fit for you.
Folding style

Sandwich or Hinge – two separate foams joined by a folding fabric in the center. It can be bi-fold or tri-fold.

pros – stow neatly and quickly, cushion can be firmer material
con – does not have much carrying capacity & need separate day pack to carry the rest of your gear. Also, does not provide seamless fall protection when the hinge is on top of an protruding obstacle like tree trunk or rock.

taco – unhinged pads with one single foam which folds in half like a taco when packed. You can prolong the life of the foam by storing it in an open position.

pros – load with gear like a back pack
cons – firmer foam makes harder to fold and the fold can stress and weaken the foam in the center of the pad

burrito  – an unhinged pad that closes with two or more folds. Usually with jumbo sized pads.

pros – less severe bend in the foam
cons – complicated and time consuming to pack.

Thickness – 8 to 10 cm (3 to 4 inches) thick is the average medium size crash pad. There are thicker pad of 5 inches or more. However it would be a little heavier to carry. If you have a tendency to fall from higher holds, I would choose a thicker pad of 4 inches or more.
Sizes – The average size is about 1 by 1.3 meters (3 to 4 ft). The bigger the pad the bulkier and harder to carry. However, the bigger pads cover more ground areas for less injury.
Weight– The crash pads can vary between 9 to 14 pounds because of the style, the foam, and the size of the pads. Keep in mind that the lighter the pad the easier to carry.
Materials – dual or triple density foam inners providing different levels of support with bottom or middle being softer. High density foam ontop to prevent climber's foot from sinking through for less chance of foot getting stuck to prevent injury. Cover sections of ground below a climb and cover rocks, or uneven spots to prevent twisting ankles.
Bells and whistles

metal, aluminum, or plastic buckles
sternum or shoulder straps & hipbelt
flap closure system with stash pockets
some crash pads can convert into a chair or a sleeping bag

Popular Brands of Crash Pads
Here are a list of different brand names of Crash Pads:
Metolius
Organic Climbing
Petzl
Misty Mountain
Mad Rock
Evolv
Black Diamond
Conclusion
Having a crash pad for bouldering is definitely a good investment. I would want to invest in a medium size pad and semi light weight for easy carrying. We often found ourselves with a bit of a hike to get to our bouldering destinations so we like to carry as simple and as light as possible.
===> Click HERE for my crash pad reviews <==
Climbing with friends with extra crash pads would be a plus. More pads would cover more area. However, do not rely only on crash pads alone if you have a climbing friend. It is good to have a friend to spot the climber as well.
I hope this article is useful for you on your search for your own crash pad. If you find it helpful, please leave your comment below. I would love to hear your perspective.
Please follow and like us: