Climbing Helmet Reviews
I choose five different types of helmets for my reviews and each one of them looks interesting to me. There are a lot of different helmets out there so it is hard to know what to choose from. Typically, there are three main types of helmet:
Hard Shell – It is a rigid and hard outer shell (ABS plastic) with webbing suspension and thin foam liner. It is durable, cheaper price, long lifespan, and generally heavy on your head. It is good for ice climbing or multi-day mountaineering.
Foam – This helmet has one or more layers of foam usually expanded polystyrene (EPS) to absorb energy upon impact. It is generally covered by a thin plastic polycarbonate shell. It is very lightweight and excellent ventilation. However, it is easily damaged. It is great for shorter rock climbs.
Hybrid Helmet – This helmet is a combination of hard outer shell and foam lining. It is lighter than the hard shell and more durable than the foam shell. This is the most popular design and type of helmet. It is great for all-around use, muti-pitch climbing, mountaineering, and ice climbing.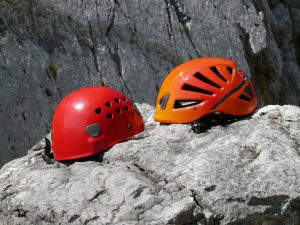 So do we climb with a helmet or not? If you are researching and reading this article about helmets then you probably know the answer. Similarly, to riding a motorcycle on the freeway, a helmet is very important. Yes, it is cool to have your hair flowing in the breeze and not be bothered with anything over your head. All it takes is one little incident that could set your whole life upside down. We call the helmet a brain bucket.
Even when you are not climbing and just belaying, loose rock or debris may fall and hit your head. Here is a great article by climbing.com called "No-Brainer? Why Do So Many Climbers Not Wear Helmets?"
I climbed outdoor and we did very easy climbs such as 5.8 or 5.9. Because we are so new to the outdoor climbing bit, we often fall and swing here and there. Our head would be the bouncer against the hard rock wall. It happened several times to my friend. Thank goodness, she had a helmet on. So the answer to the question "Do We need a helmet for climbing?", "YES!!!"
As the owner of this website, I tracked down special deals for some products or services mentioned herein. As an Amazon Associate, I earn from qualifying purchases. When you use the link from this page to make a purchase, I may receive a small commission to support this website, and you may receive a great bargain – Full Disclosure.
Black Diamond Half Dome Helmet
This is a popular beginning climber helmet. It is great for all-purpose climbing such as traditional climbing or ice. It can be used for other outdoor activities such as skydiving, hiking, caving, bike ride, etc.
It is light, comfortable, and easy to adjust to size. The price is also reasonable. The primary complaint is that it rides a little high on the head and does not cover the sides.
Average Customer Rank: 4.6/5
Specs:
Hybrid design with molded EPS foam inside and a hard plastic shell outside
Vents on the sides and back to keep your head cool
Adjustable suspension system with a wheel adjuster to fine-tune the fit
Secured headlamp clips (sold separately)
lightweight
Unisex
Weight: S/M – 10oz or M/L 11oz
Available Colors: BDL Orange, Blizzard, Deep Torch, Limestone, and Ultra Blue
Available Sizes: S/M fits 48 – 57 cm (19 – 22.5 in) OR M/L fits 55-61.5 cm (22 – 24 in)
Where to Buy: Amazon.com
Fusion Meka Work Climbing Helmet
The Fusion Meka Work is another hybrid design with lots of ventilation and extremely durable. It comes in one size and a wide range of adjustability.
This helmet is great for multi-use such as construction, climbing, mountaineering, zip-lining, and other outdoor sports.
Average Customer Rank: 4.7/5
Specs:
EPS hard-liner and polycarbonate shell provides excellent protection
Anti-microbial foam padding that offers comfort and manages moisture
Four-point suspension strap with EVA foam around the ratchet system.
Ten ventilation areas
Wide range of adjustability, single hand used to adjust the size and shape of the helmet
Head circumference: 20″ – 24 "
Two slots for mounting hearing protectors
Lightweight – 11.2 oz
CE Certified: EN12492
Available colors: black, orange, and white
Where to Buy: Amazon.com
Black Diamond Vector Helmet
This is a lightweight hybrid-shell helmet with excellent ventilation. Black Diamond boasted a "barely-there" comfort like never before. It is great for many outdoor sports such as climbing long routes Alpine climbs or cross-country skiing. It packs very nicely. A complaint that it'll fit around heads better than an oval head.
Average Customer Rank: 4.7/5
Specs:
Hybrid-shell helmet – co-molded EPS foam with polycarbonate shell
Ratcheting adjuster with molded push buttons
Large ventilation ports
Tuck-away suspension makes for compact storage
Weight: S/M – 8.1oz or 231g, M/L 8.5oz or 240g
Available Colors: Ice/Dawn, Black, Blizzard, Glacier Blue, Orange, or Ultra Blue
Available Sizes: S/M (53 –59cm / 21-23in) or M/L (58-63cm / 23-25in)
Where to Buy: Amazon.com
Petzl SiroccoAr Helmet
This Sirocco Helmet is designed ultra-lightweight for climbing and mountaineering with reinforced protection over the entire head. It has wide hole ventilation with an adjustable headband and chinstrap.
Average Customer Rank: 4.7/5
Specs:
Hybrid construction with a shell in expanded polypropylene (EPP) foam and rigid crown injected with expanded polystyrene (EPS) foam.
Wide holes for excellent ventilation
Head covering designed to cover the whole head for front and rear impact
Completely adjustable headband and chinstrap
Magnetic buckle fastening the chinstrap (Petzl patent)
Two hooks and rear elastic for attaching a headlamp
Certifications: CE EN 12492, UIAA
Comes with protective storage bag and spare foam
Compatible with VIZION eye shield
Weight: S/M – 160g (5.6oz) or M/L 170g (6 oz)
Guarantee for 3 years
Available Colors: Black or White
Available Sizes: S/M (48 –58cm / 19-23in) or M/L (53-61cm / 21-24in)
Where to Buy: Amazon.com
OUTAD Childen Helmet
These are multi-sport helmets suitable for youths actively involved with outdoor sports including hiking, cycling, skateboarding, scootering, skating, and climbing. Adjustable straps and side buckle to allow adjustment for better fitting. and comfort. The ventilation design helps keeps the head stay cool and the kid looks cool. With the variety kid-friendly color and designs, your kid will be excited to wear it every time.
Average Customer Rank: 4.4/5
Specs:
Made from ABS (Acrylonitrile Butadiene Styrene), EPS (Expanded Polystyrene) foam, and soft cotton liner
11 ventilation holes to keep the head cool
Adjustable straps and side buckles for comfort and fitting
Variety of colors and sizes available
Available Colors: Blue, Black, Pink, and Silver
Available Sizes: S (50 – 54cm / 19.7 – 21.3in), M (54-58cm / 21.3 – 22.8in), or L (58 – 60cm / 22.8 – 23.6in)
Where to Buy: Amazon.com
Love to hear about your favorite Helmet. Please leave comments below.
Please follow and like us: