Even though this is a Rock Climbing for Women website, the content and rock climbing are not exclusive only to women. We invite and encourage everyone who loves climbing or is interested in trying. The rock-climbing community is filled with amazing and thoughtful individuals.
Climbing is a fun activity with friends and families at any age. What makes it endearing to me is that it is a great activity for bonding time between father and son, mother and daughter, husband and wife, siblings, friends, etc.
Meet Aaron and Kevin
I was re-acquainted with two rock climbers, Aaron and Kevin, whom I'd seen many times before Covid at our old Aiguille location but never formally met. I didn't even know they were father and son until we chatted several years after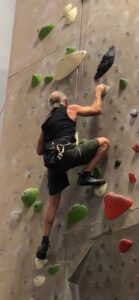 Aiguille moved to a new location.
Initially, I was inspired by Aaron Guerra who is currently 71 years old and can climb any 5.10 or 5.11 like any 20 or 30 years old and perhaps even better. But what touched me was that Aaron and his son, Kevin, climb and spend time together weekly. I decided to interview them both and get their perspectives about climbing and understand how climbing impacts their lives.
Introduction to Climbing
Aaron was introduced to climbing by a good friend who was also his physics professor in college named Jay Boleman. Jay grew up around climbing. He often traveled and invited Aaron to North Carolina to climb outdoors.
Aaron never showed interest until 2010. He decided to take Jay's invitation and took Kevin. Kevin was 16 at the time. It was their first unforgettable outdoor experience.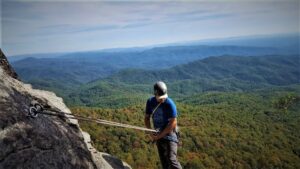 Jay took Aaron and Kevin to Table Rock in North Carolina on the eastern ridge of Linville Gorge. They climbed a route called the Cave Route rated 5.5 trad with 3 pitches. I did a little research on the internet and found Cave Route in Mountain Project.
Aaron learned to belay Jay up to the first pitch. Jay anchored to the ledge and belayed Kevin and Aaron up from the ledge. Aaron and Kevin remembered the ledge being pretty skinny and wondering how in the world could we fit 3 people on that thin ledge. Of course, Jay found the way. They also learned how to clean the routes and repelled down. It was a memorable experience.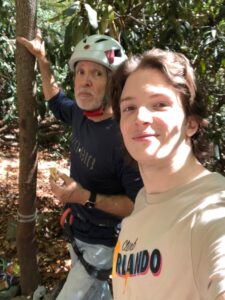 For Kevin, it was easy to learn how to climb at first. He started to climb at the old Aiguille Climbing Gym on their slab top-rope wall. He learned to climb on 5.6 and 5.7. Kevin was a small teenager and had little upper body strength. Climbing did not come naturally to Kevin. He realized to improve he needed to focus on technique over sheer strength. The slab taught him how to climb using his legs and focus more on footwork and techniques. It is a valuable lesson for climbers of all levels.
Climbing Adventures Beyond Aiguille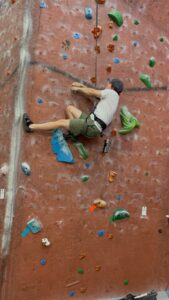 Kevin climbed at a few other gyms such as On The Edge in Melbourne, Dyno Climb, Blue Swan, and ROX in central Florida, and Stone Summit in Atlanta, Georgia. They all offer something a little different because of different route-setter styles.
Climbing indoors and outdoors is very different in Kevin's opinion. Both Aaron & Kevin are much more experienced and comfortable climbing in a gym. To them, outdoor climbing is still very new and exciting, but intimidating, every time.
They tried climbing outdoors once a year at most but it's more like once every other year. Outdoor climbing has always been more like a destination vacation instead of a regular commitment. Kevin loves to go on more outdoor climbing trips, but life gets in the way.
Staying Injury Free
One of the blessings of Kevin's climbing journey is his lack of serious injuries. While he's encountered minor muscle or tendon strains, he primarily attributes his injury-free record to climbing ropes for the first decade of his climbing career. He's now transitioning into bouldering and approaches it with a risk-averse mindset, always conscious of his body's limits.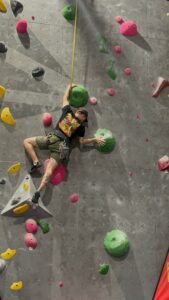 Aaron has always been an influential figure in Kevin's life when it comes to staying fit and active. Climbing regularly with his dad has been a rewarding experience.
These days, Aaron's wisdom leans more toward safety advice, reminding Kevin to be cautious during risky moves, whether through verbal guidance or just a mental presence.
"I definitely hear his voice telling me to be careful when I'm throwing for a risky move or attempting to dyno, whether it's in my head or from the ground!" reminisced Kevin.
Climbing as a Life Teacher
Climbing had a huge impression on Kevin's life. It pushed him to improve himself physically and mentally. He also learned how to problem-solve by finding the best way to climb up a route. He has met great friends who share the same passion and push each other higher! "And it's given me an outlet to spend time with my dad as we both get older. I'm very thankful for the impact climbing had on my life," exclaimed Kevin.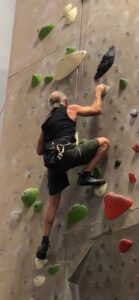 Climbing with his father has been a source of pride for Kevin. Many climbers are inspired by Aaron's strength and determination, and they often approach Kevin to express their admiration. It's heartwarming for Kevin to see his dad making new friends at Aiguille and feeling comfortable and sociable in the climbing community.
As for Aaron, climbing helped him in many ways, socially and physically. First and foremost, Aaron gets to spend time with Kevin twice or three times a week climbing together.
His son is turning 30 soon and no longer lives at home. Every moment with him is precious. Climbing provided a special opportunity for Aaron to bond with his son, as they both age. It is also great exercise physically, his arms and hands increased in strength over time.
Words of Advice
Kevin's advice to fellow climbers is twofold. First, he recommends watching climbing IFSC competitions on YouTube, where he's learned a plethora of techniques that he's successfully applied to challenging climbs at his local gym. Second, he encourages climbers to actively engage with their gym or crag community, emphasizing that the shared experience is one of the most rewarding aspects of climbing.
Aaron encourages everyone to give climbing a try as soon as possible, have fun, and similar to Kevin's advice climb and enjoy the time with family and friends.
Both Aaron and Kevin found the climbing community comforting and supportive. They make new friends regularly at Aiguille and look forward to seeing old friends and climbers motivating each other every week.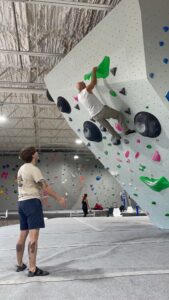 Conclusion
The climbing journey of Aaron and Kevin is a testament to the power of a shared passion and the unbreakable bond between a father and his son. As they continue to explore new challenges together, their story inspires us all to embrace our passions and seek connections that enrich our lives even in unexpected places.
Whether you're a seasoned climber or a newbie at the gym, the lessons of Aaron and Kevin's climbing adventure offer valuable insights: the importance of technique over sheer strength, the joy of a supportive community, and the enduring value of spending quality time with loved ones. Whether you're scaling walls or conquering personal challenges, remember that every climb is a chance to grow, connect, and savor the incredible journey that is life.
Please follow and like us: