This is an article of appreciation, relishing the moment of what life has to offer, and accepting the contribution of my loved ones who went the extra mile to show how much they love me.
What an amazing weekend learning at Fox Mountain Guides and Climbing School. My husband planned the whole surprised trip and didn't leave behind any clues. My kids also participated and no one slipped. Drats! They did a great job keeping everything a secret. If I am involved, I would of accidentally spill the beans along the way.
Lunch Date?
At the beginning of the week, my husband, Chris asked me for a lunch date on Friday. He said it's been a while since we go out on a date so let's create one. I didn't think anything of it so I agreed. I went about my day and continued throughout the week. By the time Friday rolled around, I had an appointment late afternoon on Friday and also agreed to participate in a city function Saturday morning.
It was Friday lunchtime. Both Chris and I completed our morning obligations. We were ready to set off for lunch. Chris asked me to hand him my laptop and suggested that we should bring it along with us. I was confused about why we would want to bring a laptop. This is only lunch after all. I went along thinking perhaps it may be one of those fun restaurants that want us to participate with our laptop.
We started to drive north. I had mentioned to Chris that I have an appointment at 2:30 pm and it was now close to 1 pm and we were still driving. He said, "I think you are going to miss your appointment. I don't think we will make it back in time". Chris suggested that I should reach out to postpone the appointment until the following Monday. That was the second sign that something strange was happening. Hmm… In my mind, I was thinking "Is this still a lunch date?" Sorry, I was a little slow. I was also thinking "This restaurant must be really good for us to go out this far." Chris kept saying "You'll love it
where we are going."
I could not get through to my client via telephone. I sent text and emails. We decided to turn around just in case I couldn't get through. By then, it was 2 pm. By the time we arrived home, the client replied and was OK with the postponement. I picked up my phone charger and sent a few emails before we took off again. This time I was more suspicious. It was about time, too. As I mentioned, I was a little slow.
On our way out, we stopped at the gas station and filled up. Chris said let's get some lunch. OK. What's gives? Is this our lunch date at the gas station? Chris finally said "no". We are going somewhere else. He still didn't want to tell me where without giving everything away. I asked a few more questions. "Are we going to be home tonight or tomorrow night?" "What is our schedule like for Saturday and Sunday?"
By this time we are almost to I95N and from his answers, I finally put 2 and 2 together. I guessed that we are going outdoor rock climbing and he may have signed us up for two days climbing class. I was totally in awe. My husband planned it all. He packed my clothes, the climbing gear, and snacks for the road. What a thoughtful husband. ❤️
Fox Mountain Guides in Brevard, NC
We arrived at the B&B by midnight. Our itinerary for Saturday and Sunday was climbing from 9 am to 5 pm. Chris signed both of us up for climbing 201 with Fox Mountain Guides and Climbing Schools. We were here for my 25th anniversary and also celebrated my son's 18th birthday. Check out "Looking Glass Rock NC – Epic 25th Anniversary and 18th birthday Rock Climbing Trip" for a fun read.
Fox Mountain Guides is a climbing school and a guide service for beginners as well as experienced climbers. They are the Southeast's first rock climbing guide service to be accredited by the American Mountain Guides Association (AMGA).
We have taken their guided class a few years before and loved it. I wrote a few articles regarding climbing outdoor with Fox Mountain Guides. You can visit my reviews, Guided Mountain Climbing Trips, and Looking Glass Rock NC, for more details.
Anchor and Placing Gear
The class that we took was called anchor and placing gear. This is especially important when we want to climb outside in building our own anchor and finding the right gear to climb safely. There are several ways we can climb outside: bouldering, sport climbing, and traditional (trad) climbing. To understand more about each style, please visit the following articles for more information:
Understanding Bouldering Grades – Indoor climbing Gym

Climbing Grade Comparison Bouldering Vs Sport Climbing Equivalent
What is Trad Climbing – Tips and Techniques to Lead Climb Outdoor
My family and I have climbed outdoor with bouldering and sport climbing. However, we have been exposed to very little traditional (trad) climbing which requires protection gear such as cam and other equipment for anchoring. One positive aspect of trad climbing is the exposure to more routes available in the world than sport climbing can provide. However, We have been relying primarily on friends for trad. Trad climbing requires yet another level of risk into the rock climbing equation. It is definitely lean toward more on mental strength than physical strength.
There are plenty of guide books and instructions via the internet but I learn best through hands-on and apply what I learned through practices. Because we live in Florida where there are sink-holes and/or swamps, we would travel at least six hours to other states such as Tennessee, Georgia, or Alabama in order to climb outdoor. Therefore, time and safety are precious to us. I find taking workshops and classes saves time. We also do not have to learn things the hard way in order to climb and have fun. In addition, we took away lots of helpful rock climbing tips, debunked certain rock climbing myths, and understood more about managing risk safely at our own comfort level.
Drilling it in
The weather was perfect and beautiful. Our instructor was Karsten Delap, the co-owner of Fox Mountain Guides. How cool was that? The two days we spent in the class were very helpful in many ways. Karsten drilled it into us. He was very patient with me and all of my questions.
This is a great class to come with an intention in mind other than just for climbing outdoor. Climbing outdoor is definitely a given just being in this class. In order to take a lot more out of the class, I created a goal. My intention and goal were to learn how to trad climb and eventually climb multi-pitch routes. Please click on "Multi-Pitch Climbing – Is it Worth It?" to learn more about Multi-Pitch Climbing. The fundamental aspect of my goal is to learn and understand how to create anchors and placing protection gear properly and safely in areas where there are no existing bolts or man-made anchors.
There is so much to remember such as the naming convention of the different techniques, using the right gear and its placements, understanding when to use what knots or a hitch, and so much more. I couldn't remember everything all at one time. We applied as much as we can learn throughout our climbs during the two days. It was drilled in very well. The next thing is to keep practicing and applying to keep it fresh in my memory. Cleaning our gear from the anchor is totally another important technical aspect of climbing. We do not want to leave anything behind, especially our expensive gear. I also want to respect nature by "leave no trace behind."
Here are a great article and video from the American Alpine "Cleaning An Anchor in Single Pitch Climbing".
We also learned the technical aspect of rappelling and the equipment that we need to lower ourselves down safely from the top.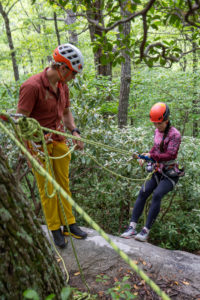 According to Outsideonline.com, most common injuries are caused when a climber is still secured but hits a rock or at a wrong angle when coming down or climbing.
Dougald MacDonald also mentioned the next common injuries are rappelling when the climber runs out of rope or missed communicated with the belayer. Mistakes and missed communications happen all the time.
One thing I learned is that always have a backup system just in case one fails and also another pair of eyes to check each other at all times. Last but not least, remember to wear your helmet. Want to learn more about the helmet? Click on"Climbing Helmet Reviews – Do We Need One for Climbing?"
Conclusion
Life is full of surprises. I learn to appreciate what I have and try my best not to take things for granted. Just like life, climbing comes with many surprises as well. It is not about the destination or getting to the top of the mountain. It is about the process and the experience on my way there. Enjoy the process of life as I enjoy the process of climbing. At the end of the day, I may not remember the details of the climbs but I sure do remember the feeling of how I felt when I was there.
Hiring a guide or taking a technical climbing class definitely make my life easier in the long run. I can keep the skills with me forever that is if I continue to practice it. I also know we learn the right way safely, become more efficient, and make new friends along the way.
I love to hear your experience in rock climbing outdoor with a guide or without a guide. Please leave your comments below. I love to read your thoughts and I will reply to you within 24 hours.
Please follow and like us: