Fox Mountain Guides Review

Name: Fox Mountain Guides (FMG)
Website: FoxMountainGuides.com
Owners: Karsten Delap and Cristin Knowlton
Overall Rank: 5 out of 5 on Tripadvisor.com
Fox Mountain Guides, Overview
Have you considered guided mountain climbing trips? If you have not climbed outdoor before and would like the experience, I would highly recommend hiring a guide. Fox Mountain Guides (FMG) is a rock climbing guide service located at 234-A S. Broad St, Brevard, North Carolina 28712. They are accredited by the American Mountain Guides Association (AMGA). FMG provides instructions and guides for beginners to learn the climbing basics as well as seasoned climbers to refine their skills. Rock climbing summer camps are also available for ages from 13 to 18.
FMG offers climbing programs and guides in different locations such as North Carolina, Red River Gorge, New Hampshire, and other locations in the United States with private guiding and consultation. The programs include professional training programs such as AMGA or Military training. In addition to rock climbing, FMG provides ice climbing and mountaineering courses in the winter months.
The Good & the Bad
The Good:
PRO #1 The guides are knowledgeable of the area and efficient on the set up so we can focus on climbing and having a good time. This saves time and frustration.
PRO #2 The guides provide all the technical gear. It is great especially for traditional climbing since I do not have my own gear yet. The professional gear can get pretty expensive all at once. My goal is to collect my gear over time.
PRO #3 The learning curve is much more efficient than learning by yourself. The guides can cater to our needs on how much we want to learn based on our own capabilities. Guides are great for beginners as well as seasoned and experienced climbers.
The Bad:
CON #1 It is expensive. However, I think it is a perspective on the expense. It is totally worth it for me when I know that I can maximize my time on climbing when I am with a guide. Saving time is like saving money for me.
CON #2 Having a large group may take away some climbing time because of the size and the different experiences. However, the price may decrease.
CON #3 FMG is too far from Florida. I can't think of any other negative aspect.
Who is Fox Mountain Guides For?
Fox Mountain Guides is great for people who have never climbed before and would like to try climbing outdoor as well as seasoned climbers who would like to refine their climbing skills. Since FMG is credited by AMGA, they also offer professional training programs for people who want to be AMGA certified instructors or military training. In addition, ice climbing and mountaineering courses are available for people who do not mind the cold and want to explore more climbing in the winter months. Brrrrrr….
Climbing is not only for adults. Kid summer climbing camps are available for ages 13 to 18, from kids who have experienced only gym climbing to those who have climbed outdoors but only sport climbing. They get to experience all aspects of climbing of single and multi-pitch trad climbing in North Carolina.
Fox Mountain Guides Price
Rates and pricing may vary depending on how much time you would like to spend climbing outdoor, how many people in a group, and the level of difficulty. You can CLICK HERE for RATES and PRICING.
My Final Opinion of Fox Mountain Guides
We had an amazing time climbing with Doug, our FMG guide on Labor Day weekend 2018. My husband and I wanted to celebrate our 25th wedding anniversary and my son's 18th birthday. It was the best choice for us since we all enjoy climbing together as a family. Even my daughter who did not climb had a fun time. Doug engaged everyone.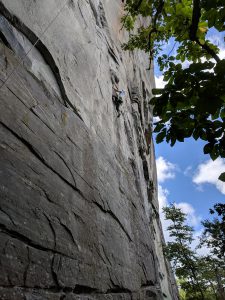 FMG focused on safety with good habits as the number one concern at all times. I appreciate the constant reminder of awareness to keep us safe and continue to have fun. I learned little tidbits in re-tying a good-looking knot with just the right size tail. I learned how to use my grigri more efficiently and especially how to belay a heavier climber outdoor.
I have climbed outdoor before without a guide and I learned lots of what not to do. We wasted a lot of time getting lost, exploring, and setting up anchors. All-new experiences are great but if I have limited time a guide will definitely assist me in maximizing my time and have epic climbs.
By the end of the day, hiring a guide from FMG was totally worth it. I would definitely do it again. For the next time, I would like to try multi-pitch climbing.
Have you climbed outdoor before and would you consider hiring a climbing guide? I would love to hear your thoughts. Please leave them below.
Fox Mountain Guides at a Glance…
Name: Fox Mountain Guides (FMG)
Website: FoxMountainGuides.com
Owners: Karsten Delap and Cristin Knowlton
Overall Rank: 5 out of 5 on Tripadvisor.com
VERDICT: TOTALLY LEGIT
Please follow and like us: