This was hands down my best-organized trip ever for rock climbing outdoor adventure. It was compacted into a 3-day weekend. To be honest, it was my very first rock climbing for women ONLY trip ever. My past organized trips had been with mixed companies.
This article is about a climbing adventure with serendipitous experiences. From this adventure, I experienced collaboration at its best with a group of women who have a common passion for climbing. We were like little girls enjoying and making the best out of every moment life has to offer.
The Plan
At the beginning of June, I returned with my husband from a surprise belated birthday, anniversary, Mother's day combo celebration climbing trip. Yes, I wrote about that amazing experience as well. Please visit Surprised Lunch Date to learn more. As we drove home, I was thinking of ways to climb outdoor again. I have to admit. I am a little addicted to climbing.
My husband suggested why not plan a trip for women climbing since I am promoting rock climbing for women. OK, that is not a bad idea. I sat down and made a list of women who I climbed with or met through the climbing gym. I reached out to a handful of my female friends. My climbing partner couldn't come. However, I received overwhelming enthusiasm from four other women whom I met at the climbing gym. We needed at least five people to make it happen. It was perfect. As a bonus, my close and good friend from Los Angeles was able to meet us as well. We had an even six women including me.
The planning began. We picked the best available weekend in July for us to get away. Our destination was Brevard, North Carolina to climb at Looking Glass Rock. Since most women were beginners to outdoor climbing, we hired a guide to assist us in climbing outdoor. We booked two days (Saturday and Sunday) climbing with Fox Mountain Guide.
We have three different caravans of getting to our destination. For my caravan, I was driving and arriving in the evening of Friday and leave Sunday after our climb, the second caravan was leaving early Friday morning driving and come back Monday, and last but not least the last caravan fly in Friday late afternoon and fly out early Monday morning. Another person made the reservation for our place to stay.
Our Crash Pad
We all decided to share a cabin together to save money and it was a great way to bond. We stayed at the Airbnb in Rossman, NC. The size of the cabin fit us well. It was an older cabin. The decors were from the 70s or maybe early 80s. The rooms were clean and cozy. The kitchen was long and narrow. There was a nice size living room with a fireplace and a Television. The setting reminded me of my ski trips that I organized many years ago, other than the snow of course.
We all pitched in and brought plenty of food. The refrigerator was filled for a week's worth of food supply. I made my simple chicken dish sautéd in garlic, mushrooms, and onion for Saturday night. Yum! It was a success, well other than the kitchen smoked up a storm because the vent was not working. I called the chicken dish "Chicken A La Ha". One person made delicious rolled oats with fruits for Saturday breakfast. Another person made egg salad sandwiches for lunch. Yet another person packed a little bag of trail mix for each one of us. We had American coffee, Vietnamese coffee, tea, beer, and more.
On Sunday, we planned to meet the guide early so we can get a little more climbing in. However, I forgot that we also needed to pack, clean, and check out before we leave. Hurriedly everyone had breakfast, packed their stuff, and loaded into the cars. We were fallen behind because of finalizing a few details and checking out. I was leading the caravan and my GPS was not working. What was so cool was that someone else took over on the directions while another person found another working GPS. Somehow, we collaborate among ourselves seamlessly with 3 car caravans and limited satellite signals for communication. Best of all, we arrived at the destination right on time.
Looking Glass Rock Climbing Days in the Rain
The weather did not cooperate so we were not able to climb the two full days. It rained both days around noon. On our first day, Saturday, we had a slow start getting the gear, filling out waivers, and prepping up. From the FMG office, we drove to the south side of Looking Glass Rock. We hiked in about a mile. Our guide, Doug, setup two routes side by side. While we were climbing, we heard thunder rumbling above us. After everyone completed the two routes, we all saw the dark clouds and rain heading toward us. We quickly put everything away and hiked back out again feeling disappointed.
We got to our car around noon and just in time. The rain hit. Scattered rain and storm were dispersed at different locations at different times. That day was a wash literally for climbing. We were left unsatisfied. We quickly looked up for local gyms to climb. Unfortunately, all the gyms in Brevard and a nearby city, Ashville, were closed because of COVID19. Ugh and double ugh!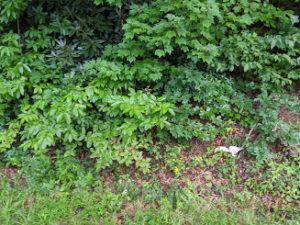 Someone suggested let's go hiking. We drove around a little to look for places to hike and check things out. While driving around, we spotted a white squirrel crossing the street. That was cool. Brevard was known for its white squirrels. I am sure there is a story behind that somewhere. No time to investigate. Must move on and find a hiking place. After driving around about 40 to 60 minutes aimlessly with stopping here and there, we decided to go back to the cabin and have dinner. That was when I made my chicken A La Ha. I shall share the rest of our exciting evening experiences under serendipitous adventure.
The rain came down harder and harder until it started to pour over the rocks like a waterfall. That was the signal that our climbing day was over. Once again, we hiked toward our car again. This time we got wet. Luckily we brought along our rain ponchos. We were not completely drenched. It was yet another half day of climbing spoiled by the rain.
Serendipitous adventure
Remember Saturday after having Chicken A La Ha it was still early. Because we didn't get to climb much, we wanted to seek some active sport to throw ourselves in. Determined to find a hiking place with a waterfall, we headed off again after dinner in pursuit of a waterfall.
Did I mention that all six of us fitted in a black rental Jeep? We decided to carpool and explore together instead of driving individually. Somehow two of our ladies got lucky and received an upgrade in their car rental with no extra fees. They happily accepted the upgrade and we utilized the car to its fullest potential for this trip.
We found Rainbow Falls in Gorges State Park. It was a 1.5 miles hike from the parking area. Once arrived at the parking lot, the driver and the front passenger spotted a sign. They both were curious so they headed toward it. It was spontaneous and serendipity. The sign was for a route that especially made for 4×4 vehicles. They turned toward each other, smiled, and kept driving forward. The back passengers held tight onto each other and their seats because they were about to be engaged in a thrilling ride.
Other than the driver, this was almost everyone's first time driving in a Jeep on the 4×4 road. It was quite a ride with ups and downs like a roller coaster. We screamed and laughed so much that my face hurt. Watching everyone else experiencing the ride was priceless.
Since this was a rental Jeep, we did not know how to operate the shifting of the 4×4 stick. We drove for 1/3 of the way using a two-wheel drive. We could not figure out how to get the 4×4 into gear. We pulled out the manual but no luck. Luckily we came across another car driving in the opposite direction. That person seemed to know what they were doing. We asked him for assistance in getting our 4×4 into gear. He helped out and said that we would definitely need the 4×4 for the rest of the way.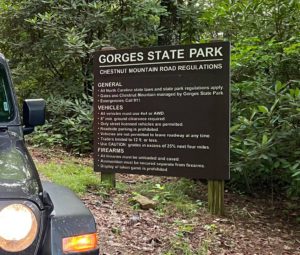 We sure did. The road was steep and rough. There was a detour with a huge puddle in the center. Of course, we took the detour. My Los Angeles friend was an amazing driver. She was definitely a courageous soul when it came to driving through rough terrain. I learned something new about my dear friend that day.
We completed the 4×4 route safely and in one piece. Whew! It was an hour of an intense thrilling detour. We also hiked to Rainbow Falls. It was beautiful and refreshing. Our evening was completed.
My Two Cents
The pandemic of Covid19 was roaring. We put civilization aside and went on a road trip to climb outdoor. This was the first time all of us ever been on a trip together. We had a great range of ages from 28 up to the 50s, different nationalities, and different careers. Our one common ground is the love for climbing.
Food, lodging, transportation, and climbing were well orchestrated effortlessly with no complaints, no whining, and best of all no injuries. Our biggest hurdle was dealing with the rain and getting packed, cleaned up, checked out, and met up with the guide by 8 am on Sunday.
Everyone contributed in their unique way. We all worked well together. I was quite amazed and impressed with all six of us come together, had fun, and made many memorable moments in a short weekend. The getaway weekend turned out to be amazing and perfect. Everything coordinated just like it was supposed to be.
I love to hear your thoughts. Did you ever get rained out on your climbing trip? How was your climbing outdoor experience? Please leave your comments or questions below.
Please follow and like us: