Is there such a thing as rock climbing gloves? Yes! There are special gloves just for climbing.
If we use our hands to climb, do we really need them? The answer can be subjective. In this article, I will share my thoughts on why we would want a pair of gloves, how to choose them, and what types of gloves are great for rock climbing. Afterward, you can create your own opinion on whether you would like to have a pair or not.
As the owner of this website, I tracked down special deals for some products or services mentioned herein. As an Amazon Associate, I earn from qualifying purchases. When you use the link from this page to make a purchase, I may receive a small commission to support this website, and you may receive a great bargain – Full Disclosure.
Why?
There are three top reasons why I would want a pair of gloves for rock climbing:
Belaying and Rappelling
Crack Climbing
Ice Climbing, Mountaineering, Aid Climbing
The first and foremost usage of gloves for me would be belaying. The gloves protect my hand from the friction of the rope which sometimes creates rope burn especially when I belay my partner on a tall climb. With gloves, I can continuously lower the climber without having to pause every few seconds to relieve my hand from the rope friction. My hands are full of calluses and toughness from climbing but they are still sensitive. I have small hands and I often belay people who are heavier than me so I sometimes use my hands as friction to lower the climber at a slower rate. It is uncomfortable with bare hands.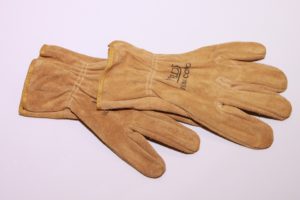 When climbing outside, you will uncover different types of textures and crevices in rock formations. Among those textures and crevices is crack climbing. I got a taste of crack climbing on my last North Carolina – Looking Glass trip. It was awesome and fun. I can see how a pair of crack climbing gloves would help big time. Looking Glass has granite rocks and they can get pretty sharp on the corners and cracks. Jamming your fingers, hands and other body parts is a big part of crack climbing so any protection can go a long way.
Other outdoor aspect of climbing is ice climbing, mountaineering, and aide climbing. I consider this climbing is serious climbing. At this time, I don't know if I want to endure the freezing weather to climb. It is definitely too cold for this tropical-climate Vietnamese girl. Who knows, I may change my mind later. Anyhow, you can see where the gloves can come in handy for extreme weather.
I have climbed outdoors during spring break in the Tennessee mountains and it does get chilly in the 40s in the morning and warm up in the afternoon. A pair of gloves to keep warm when belaying and waiting for your turn to climb is not a bad idea. When cold, the rocks are freezing to the touch. They do not hold heat very well. It was an amazing experience for me on my first time climbing outdoors in the cold. My hands were numbed when I first held the rock which limited my mobility. I was totally shocked but climbed forward regardless. The weather did warm up and all was well. However, looking back during those few beginning hours, having a pair of gloves would be amazing.
How to Choose?
There are three aspects of choosing a pair of gloves: price, quality, or flexibility. What are your priorities? Can you have all three? Most of the time, I think you can have safely two out of three. Choose what works best for you in the type of climbing that you will be focusing on.
There are three elements to consider for your glove choices: the type of material, the durability and flexibility, and the sizing.
Material – From my research, there are three types of materials: Cowhide, goatskin, and synthetics. Each of the materials offers a different type of quality and usage depending on what you are looking for regarding price, quality, or flexibility. The cowhide is the most durable and has the least flexibility until you break them in. The goatskin is less durable than cowhide but offers more flexibility. The synthetics are the lightest with flexibility and the most breathable gloves.
Durability and flexibility – When it comes to durability and flexibility which would you choose? Durable long-lasting gloves usually are not as flexible with the most dexterity. The two primary areas to focus on for durability are the materials and the stitching. As far as the materials, cowhide is the toughest, goatskin, and then the synthetics. In general, the tight-fitting glove will wear out fastest in the fingertips and the second area is the stitching, especially around the fingers. For the most durable gloves, look for double stitching in the finger area. Flexibility is also important in handling the gear while belaying or even climbing. I would want the ability to feel and handle my equipment safely. Synthetics would have the most flexibility and be cheaper than leather but will be less in the durable department. There are gloves out there with a mixture of goatskin or synthetic leather fingers and reinforced cowhide leather for the palm which will give you a mixture of durability and flexibility. However, the price may be higher for the special mixture.
Sizing – To determine the sizing for your gloves, you need to measure the palm girth and the palm length:
– Palm Length: Measure from the crease of the base of your palm on your wrist to the tip of your middle finger.
– Palm Girth: With a cloth tape, measure around the dominant hand at the knuckles near your palm keeping your fingers together. From the two measurements, Black Diamond recommends choosing the larger number of the two results. Here is a sizing chart created by Black Diamond for your reference: BLACK DIAMOND SIZING CHART. When sizing and if you are not sure, consider a smaller size rather than the bigger size. When dealing with leather or synthetic stretchy, it will stretch out to your hand over time. When the gloves are too big, it may be harder to handle your gear such as the carabiner or belay device.


What is available out there?

There are plenty of gloves available out in the market that you can use as climbing gloves. There is no special formula or magic to find one. You can use bike gloves, gardening gloves, baseball gloves, or any gloves that you may already have. These gloves can be used for belaying or rappelling. They may not work for climbing cracks or rocks.

However, if you are curious to know what is available out there in the rock climbing market, of course, there will always be something more precise about what you would want for climbing. There are 3 types of gloves for rock climbing:
Crack climbing gloves – Traditionally, climbers wrap their hands and wrists with sports tape. This helps protects their hands against the abrasiveness of the rocks and cracks from the jamming technique. It is pretty painful. The process of wrapping and unwrapping every time they climb can be lengthy as well. Here is a nice simple 1-minute video with Nina Caprez for Arc'teryx on how to make your own tape glove: The crack climbing gloves are specially designed to cover only the back of the hands and sometimes wrists. They are much more convenient for taking on and off at any time and provide protection against sharp rocks. These gloves are generally made of microfiber stretch suede, synthetic suede, or climbing rubber to give a grippy feel to the rocks. The negative aspects of the gloves are bulky and expensive. With the gloves, your hands may not have the precise fit into the crack as you would with tape. As far as the price, they may vary from $25 – $45.
==> Click HERE for my review on Crack Climbing Gloves.
Half-finger gloves or fingerless gloves – These are gloves that have no fingers. The climber has more flexibility in using the fingers handling gear or climbing up a rock. However, it may not be the most ideal for belaying and rappelling because it won't protect your fingers from rope friction.===> Click here for my review on fingerless gloves.
Full-finger gloves – These gloves are great and mostly used for rappelling, belaying, or cold-weather climbing. It gives you full protection against rope friction and cold weather. However, flexibility and dexterity will be less, and not so good for climbing.===> Click here for my review on full finger gloves.
My final Thoughts

To sum up the question, do we need gloves for climbing? As I wrote at the beginning of the article, the answer can be subject. My answer would be not really, it is not a "must-have." To me, it is more like "a want to have" for protection from the weather and nature.

At this time, I use cheap half-finger synthetic bike gloves primarily for belaying. I do not climb outdoors enough to use for crack climbing or cold weather. They serve me well so far. Durability-wise, I know I will have to replace them in a year or so depending on how often I use them. For right now, they are perfect for what I need.

I hope this article has been helpful in answering your questions about rock climbing gloves. If you have further questions or suggestions, I would love to hear them. Please leave your comments below.

Sources: www.99boulders.com, www.outdoorgearlab.com, CSG Gloves image

 





 
Please follow and like us: