As the owner of this website, I tracked down special deals for some products or services mentioned herein. As an Amazon Associate, I earn from qualifying purchases. When you use the link from this page to make a purchase, I may receive a small commission to support this website, and you may receive a great bargain – Full Disclosure.
My extended families have a family reunion almost every summer and it is generally in a different state each year. This past year our family reunion was in Northern Virginia near DC. My immediate family and I usually make the reunion into a mini family trip and maximize our vacation time. This time it was a rock-climbing trip. You probably guessed that I had a little bit of influence in the decision making. Immediately and excitedly, I got busy researching regarding locations for rock climbing. I quickly found Great Falls offering rock climbing outdoor which was perfect because it was near our family reunion location. Wahoo!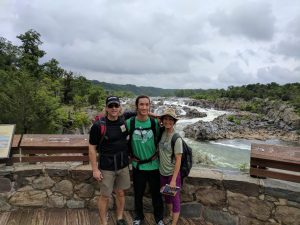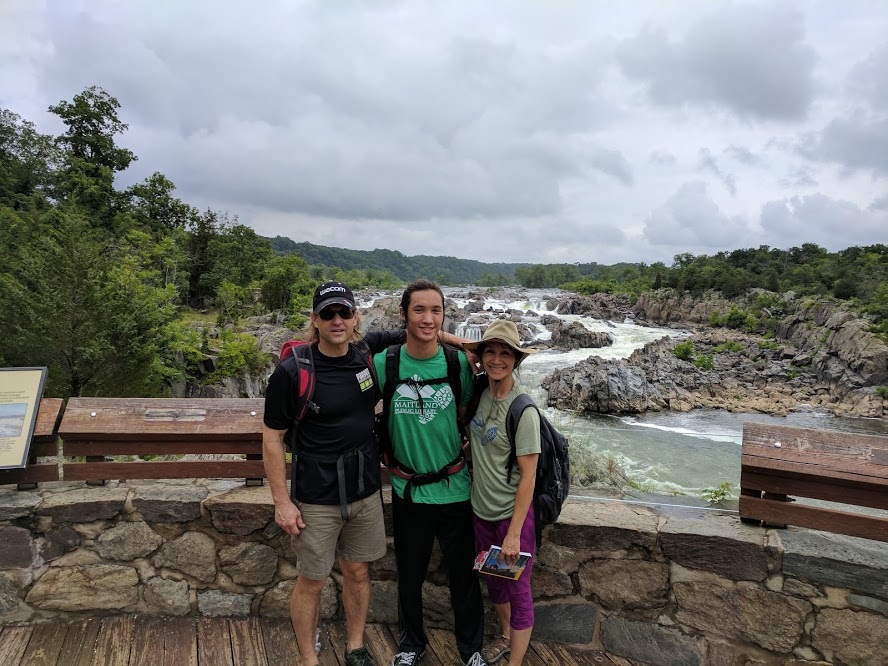 Great Falls is a National Park located in Northern Virginia near the DC area.  The Potomac River flows through a series of jagged and steep rocks of Mather Gorge with a strong force of current forming multiple waterfalls. Great Falls offers beautiful well kept hiking trails and many outdoor activities. Rock Climbing is among one of their many fun activities.
Types of Rock Climbing
From this trip, I learned that there is more than just sport climbing or bouldering outdoor. Trad, Sport, Top Rope, and boulder are the most common types of rock climbing.
Trad or also known as traditional climbing which is when a climber places gear into the rock or cracks while ascending to protect against falling and removes them when completed. The most common gear being used today is spring-loaded camming devices. The important features of trad climbing are focused on the exploration and "leave no trace" behind in nature.
Sport climbing is when the bolt and anchor points are permanently installed to the rock before the climb. This type of climbing requires less mental stress and less equipment than trad climbing. It emphasizes strength, endurance, and techniques. There are two ways for sport climbing: leading and top-roping.
Leading in sport climbing is when the climber ascends a route with a rope tied to his or her harness while a belayer handles the loose end of the rope below. The climber then attaches a quickdraw to the bolt along the route and clips the rope through the bottom end of the quickdraw. At the top of the route, there is typically a two-bolt anchor that is used to support lowering the climber down to the bottom. Top roping in sport climbing is when the second climber climbs up to the top using the same clip in rope as protection from falling that the lead climber left.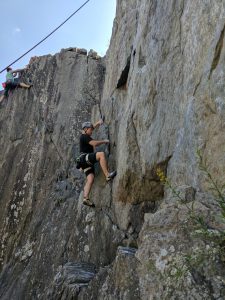 There is also top rope climbing when the routes cannot be lead climbed. This is when the climber is attached to a rope, the rope is passed through an anchor system at the top of the climb, and the loose end is attached to the belayer at the bottom of the climb. Most of the top-rope anchors can be reached by hiking up the cliff another way. The anchor points on the top of the route for the top rope can be big trees or bolts. Generally, top-rope climbing is psychologically and physically easier and less mentally stressful than lead climbing or trad climbing. You can also check out my article on "What is Top Rope Climbing – Indoor vs Outdoor" for more information.
Boulder is a type of climbing without rope or harness. The climb is typically no taller than 6 meters (20 feet) high. It will definitely be advantageous and highly recommended for you to bring crash pads if bouldering outdoor. You will want to land on something soft instead of the hard ground or a rock. The last thing we want is a broken leg or arm.
Rock Climbing at Great Falls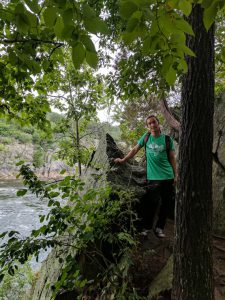 You may wonder why am I sharing with you all the different types of rock climbing? Well, there is primarily trad and top-rope climbing available at Great Falls. There are very little lead sport routes available. It is important to understand what type of climbing is available so that climbers can be prepared to bring the right equipment to climb safely and have a fun time.
Climbing Great Falls was my husband and I first time climbing outdoor by ourselves and without a guide. It was definitely intimidating. As I did my research, top roping was our primary interest in Great Falls since we do not have the experience and the extra equipment for trad climbing. Also, my husband is familiar with setting up the top rope anchor since he has taken a basic class on setting up anchors a few years ago. Before we left for our trip, we researched, rehearsed, and refreshed ourselves with friends and other experienced climbers regarding setting top rope anchor. It's good to always have a backup system.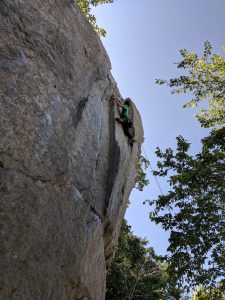 As the owner of this website, I tracked down special deals for some products or services mentioned herein. As an Amazon Associate, I earn from qualifying purchases. When you use the link from this page to make a purchase, I may receive a small commission to support this website, and you may receive a great bargain – Full Disclosure.
We finally arrived at Great Falls a few days before my family reunion and it rained and rained! What a washout! However, we decided not to waste our day and pout. Since we were nearby we decided to scout out the location and hike the trails at Great Falls. To our surprise, it was cloudy and overcast at Great Falls. However, the rocks were wet from the rain the day before. Ughh!!! We used our guidebook called "Climber's Guide to the Great Falls" and found several routes that we would like to climb. We hoped the rocks will dry up the next day. The height of the wall was not as high as we thought. I wonder if that is why these routes can be top rope only.
We arrived the next day bright and early at Great Falls and returned to the places that we would like to climb. The weather was much nicer and the rocks dried up mostly where we wanted to climb. It took us a little bit longer the first few times to set up the top rope anchor. After the third time, we got much more efficient. We were able to climb a few routes then we had to head off to the reunion. Even though we did not get to climb as much as we hoped because of the rain, we still were able to manage at least a little bit of climbing in. My husband also got the experience of setting a top-rope anchor successfully. We were happy.
I learn that no matter how prepared I think I am there is generally be serendipity adventure awaiting us when invoking climbing outdoor.  It was definitely a challenging and humbling experience. Also, always, always, always have a backup system (such as multiple anchors) and/or back up plan for a rainy day.
Have you climbed Great Falls before? Please feel free to leave questions or comments below. I would love to hear from you.
Please follow and like us: