While climbing at Aiguille and coaching two engaging women climbers, I met an inspirational woman climber. It is not often I will meet an older woman rock climbing. In general, the climbers I meet are in their twenties to maybe forties. I rarely meet a woman over 60 who climbs regularly. The woman whom I met was 72. I was so impressed by her mental and physical youthfulness that I wanted to learn more. With her permission, I interviewed my new friend for rockclimbingforwomen.com. I would love our readers to meet that amazing woman, as well. Her name is Mary Rose.
When Did Mary Start?
Mary Rose has been climbing since 2015. She shared with me that she was not an athlete when she was young. She did not run any marathons or did any sports. She played a little tennis and racketball but was never really good at it. No one in her family climbs at all. Mary has been curious about rock climbing and thought to give it a try when she was 65. She took on climbing naturally and totally fell in love with the sport. "To have fun and get the elation of getting up to the top," Mary said.
When Mary first started, the old Aiguille did not have auto-belay. An auto-belay is an automatic mechanical climbing belay device to substitute a human belayer. To climb the walls with rope, Mary had to hire an Aiguille employee to belay her. It costs $25 per hour. She loved it so much that she did that for almost two years until she met Sarah Lewis through a mutual friend. "Having a great partner is worthwhile. Sarah encourages and pushes me when I do not push myself," said Mary.
Before Sarah, Mary often pulled her husband, Tom Rose who is her biggest cheerleader, into the gym to belay her. I am sure Tom was also very thankful for Sarah because he has been relieved from belay duty.
Where Does Mary Climb?
Mary was a school teacher. She taught for 41 years: 20 years as a kindergarten / first-grade teacher, 18 years as a fourth-grade teacher, and 3 years as a tenth-grade teacher. She mentored and taught other teachers more in her last few years of teaching. She wrote and published over 17 books for education while teaching. She was active mentally more than physically while younger.
For the past six years after retirement, Mary had taken on a new mental and physical challenge. She had climbed both indoors and outdoors. She climbed at the gym called The Edge in Melbourne and Jacksonville. She even explored and climbed in a gym called Stone Summit in Atlanta, Georgia. That gym is about 60 – 65 feet tall. Her outdoor experience was at New River Gorge in Fayetteville, West Virginia. New River Gorge was officially named America's 63rd national park in 2021.
Click here to read more about it ==> New River Gorge National Park and Preserve
Mary's first time climbing outdoor was the Pinnacle Wall which was 125 feet high. She hired a climbing guide. I totally recommended hiring a guide if you are not familiar with the area or new to outdoor climbing. Interested to know more about climbing guides, please click on ==> climbing guides.
"Climbing outdoor is nothing like climbing indoor." Said Mary. There were no color-coded artificial rocks to rely on for where to put your feet or hands. She utilized everything including the cracks in the wall to put her feet in. She adapted to feel her way up the wall. Everything was open for grab.
Between indoor and outdoor climbing, Mary Rose loves them both. There are definitely good and bad advantages for both. Mary loves sport climbing more than bouldering, climbing without a rope on a short route. However, she will boulder on a route that she knows she can also climb down. Mary is open to climb anywhere she can. Currently, her home climbing gym is Aiguille in Longwood, FL.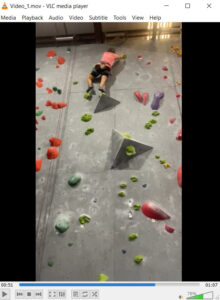 Why Does Mary Climb?
Mary mentioned that climbing has so many advantages. She feels wonderful every time she completed a route. It is a feeling of elation and accomplishment. Yes, there were occasional muscles pulled here and there along with bumps and bruises but they are all part of the learning experiences. Mary started when she was 65 with arthritis and very little skills in sports. She is still climbing at age 72. What an inspiration!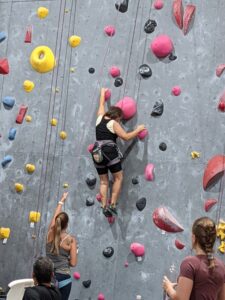 Mary loves the climbing community. Everyone whom she met at Aiguille including the staff is so nice and thoughtful. Mary also reminded me to mention Sarah Lewis in this article. She loves Sarah. Sarah is a great climbing partner. They complement each other quite well. I totally agree. Having a partner to support and encourage you make climbing so much more fun and enjoyable.
Mary Rose also shared with me regarding her DEXA scan, a noninvasive bone density test to measure bone health, results. A rating for the normal 30-year-old bone scan is 1.0. Mary's bone scan was 1.1. Wow! She believes climbing made a huge difference in her bone density result. Not only that, Mary looks amazing for 72. From my first glance, I thought she was in her fifties.
Conclusion
Here is Mary's advice for women, young and old:
Do not need to have the upper body strength to climb. Mary is a great example.
No need to have athletic skills. Imagine like you are climbing up a ladder.
No age limits. Mary is 72 years old and still climbing.
Find a great climbing partner like Sarah Lewis who brings the best out of you.
A great alternative and fun exercise.
Help release stress
Mary Rose is my inspiration. My goal is to continue to climb into my 70s and 80s. I agree with Mary wholeheartedly. I hope to inspire the readers to climb no matter what age they are at.   Try it out and see if it is a good fit for you. In addition, you do not have to be a woman to climb. 

Here are a few more articles you may enjoy reading:
Rock Climbing Images – What are the Perceptions of Rock Climbing?
Rock Climbing for Women – Seven Reasons Why It Is A Great Sport for Women
Five Top Rock Climbing Benefits – What Muscle Does It Help?
I love to hear your thoughts and experience regarding climbing. Please leave your comments below.
Please follow and like us: