Product: Tentstile Stingray Review
Place to buy: Amazon.com
Warranty: One year product warranty
My Rating: 4 out of 5
Tentstile Stingray Review
This is the coolest tent ever!!! We used it twice already since we bought it this pass May 2017. We love it!
This is a great family tent for three. We bought an extra three person hammock which served as a second floor layer for three additional people. We used it for camping when we go rock climbing. Our very first trip was at Foster Falls, TN. We were hit two nights of rain with a tornado warning. On our first night of rain, we were a little wet. It was a pretty big rain storm. Even though we were off the ground, we were dripped on by the rain condensation. During the following day, we re-adjusted the rain fly for better ventilation. We also tightened, balanced, and equalized the tent floor so that we didn't end up landing on each other at the center of the tent. We were comfortable and completely dry the second night.
Also on the plus side for our tent, one of our friends was attacked by fire ants. He slept in the conventional camping tent at our campsite. Because our tent was suspended in the air, we walked away with no bites from ground bugs.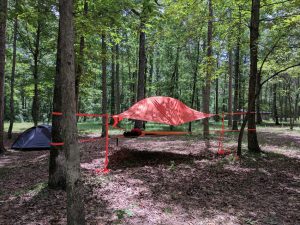 On the second camping trip, we were much more experience on the setting up. We setup the tent a little higher off the ground. This time we bought additional two walls for our bottom three person hammock to protect from the rain.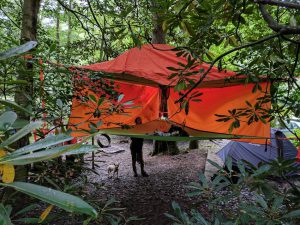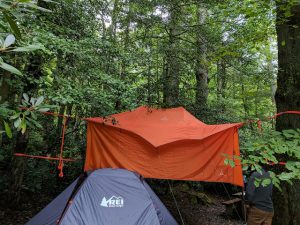 The walls worked out ok. The corners were ripped when we stretched out the walls. We contacted customer service and shared with them our concerns. Tentsile fix it department was very responsive and sent us a new wall to replace the ripped one. Yay!
The Comfort Factor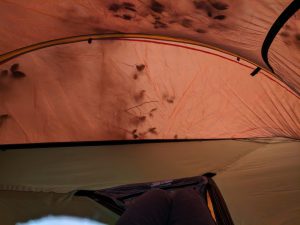 It was much more comfortable sleeping in a suspended tent than on the ground. It was like sleeping on a tight hammock or maybe a water bed. I like the fact that the surface conforms to my body, less achy back than sleeping on the air mattress.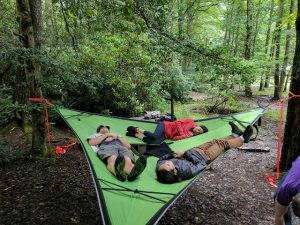 The insulation works out much better than I thought. It kept us cool on hot days and warm on chilly days – 60 degrees F. We used primarily normal blankets. However when the temperature dropped to below 50 degrees, we were cold using the normal blankets.
One suggestion from the Tentsile video was that we could use the second three person hammock to double up with the Stingray and put an extra blanket in the middle to have the extra insulation. We shall try that for our next outing. Meanwhile, we are also going to invest in a nice and warm sleeping bag as well.  Check out my review for an ultra light and affordable priced Duck DOWN sleeping Bag ==> Ultralight Down Sleeping Bag Review.
The Setup Factor
The setup was cumbersome at first especially when we did not know what we were doing. I totally recommend to check out the setup video from Tentsile.

My husband recruited our kids to help out and it made the setup easier.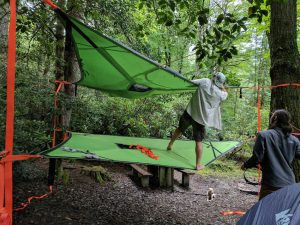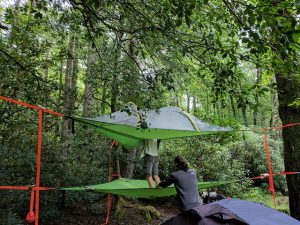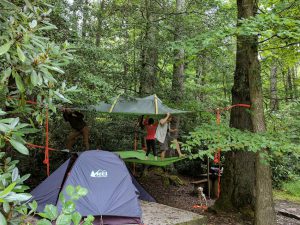 It was helpful to have more than one person to setup the tent. Also finding three equilateral trees was not as easy as we had thought especially at state parks. Usually the campsites are cleared of trees for the conventional tent pad.  Campers in general prefer less trees. There are not many trees and especially three equilateral trees at campsites.
Finding three sturdy and strong trees is important. We want the trees to be strong enough to hold up all of our weights. As we learn, having equilateral trees is not a must; although, it is helpful. We can adjust the length of the straps for balance and equilibrium among the three trees. In addition, make sure all of the ratchets are secured and closed so the floor will not collapse.
We also learned that we can request a campsite that is fully shade or more in the woody area. This will almost guarantee us with having at least three trees.
Materials and Specifications
3 person tent with 2 doors and removable rain fly sheet
Canopy – polyester mesh material
Roof – tear resistant insect mesh
2 aluminum featherlite poles – anodised aluminium alloy 7001 T6
Total equipment weight 20 pounds, shipping weight – 22.2 pounds
Side lengths: 13.5 x 13.5 x 13.5 feet
Floor area: 75 square feet
Pros
Fun
Comfortable
Durable and good quality
Off the ground
Cons
Need three trees
Hard to setup for first timer
It's heavy as to hike with it, good for car camping
It is a little pricey. However, the fun and comfort factors are totally worth it. Keep your eyes out for promotional discounts and package deals.
All in all, we love the Tentsile Stingray tree tent. We have retired our old conventional tent and will continue to use this tent for camping from now on. Our tent is a perfect conversation piece among the campers in the state parks.
As far as trees are concern, we have been very fortunate to find three trees at the places we have camped at. I usually check out the location online or ask the rangers over the phone regarding trees in campsites. The rangers are usually very helpful. Sometimes I can find pictures of different campsites location on the internet as well. This help me find the perfect campsite ahead of time.
If you are camping on private campground, make sure to get their permission for suspending your tent on their trees. Some campgrounds will not allow it. I have stumbled across one so do not assume that all campgrounds will allow tree tents. =)
I would love to have your thoughts about this Tentsile Stingray review. If there are anything I may have missed or you have questions about, please feel free to leave a comment below.
Please follow and like us: