Lightweight Sleeping Bag Review – Shavano 32 Degree F Ultralight Down
As the owner of this website, I tracked down special deals for some products or services mentioned herein. As an Amazon Associate, I earn from qualifying purchases. When you use the link from this page to make a purchase, I may receive a small commission to support this website, and you may receive a great bargain – Full Disclosure.
Name: Hyke & Byke Shavano 32 F Ultralight Mummy Down Sleeping Bag
Website: Amazon.com
Owners: Hyke & Byke, Daniel (one of the owners)
Warranty: Lifetime warranty on manufacturing defects
Available Sizes: Short (5'6″), regular (5'7″ to 6'1″), and long (6'2″ to 6'6″)
Available Colors: Black, Blue, Light Blue, Maroon, & Red
Overall Rank: 4.4 stars out of 5 (Reviews from Amazon customers)
Where to Buy: Amazon.com

MADE in the USA
Shavano 32 Degree F Ultralight Down, Product Overview
The Shavano 32 Degree F Ultralight Down is a sleeping bag with duck down filling. It is the lightest and most compressible bag with premium quality at a reasonable price. It weighs approximately 2.03lbs to 2.27lbs varying with the sizes of the sleeping bags. The bags are in three sizes: short, regular, and long varying from 5′-6″ to 6′-6″ tall.
The microscopic air clusters found in the down feathers create a "loft" that traps heat. The duck down insulation and waterproof fabrics keep you warm from 45 to 60 degrees F and survival rating at 32 degrees F. Please see below for the chart update on down sleeping bags: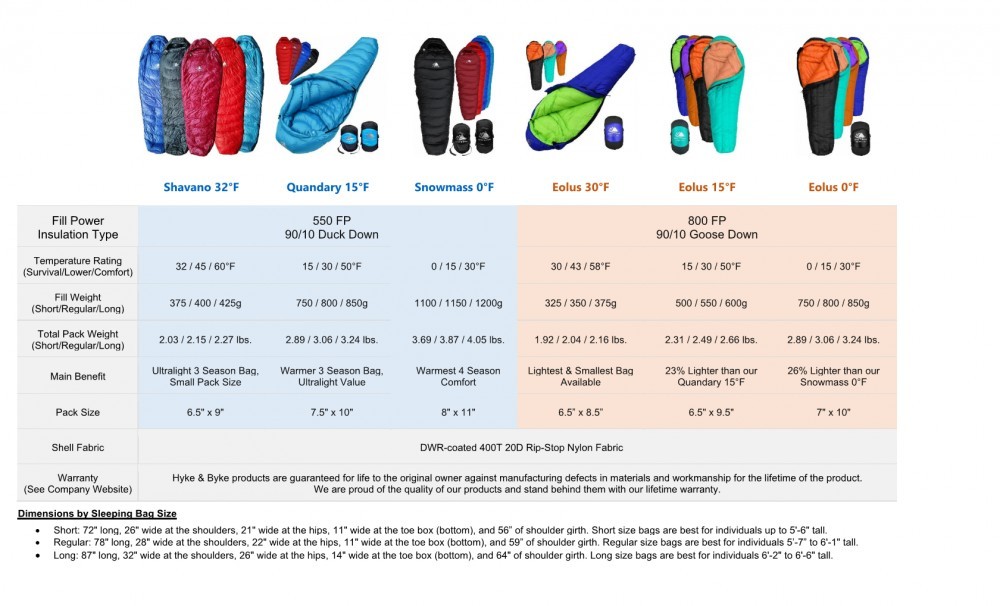 The liner is made from ultralight water repellent DWR 400T 20 D ripstop nylon fabric with double large YKK zippers, anti-snag slider, snag-free Velcro, and drawstring. The sleeping bag gives room for wide shoulders and a large foot box. The baffles are designed horizontally to retain heat evenly, 90/10 550 fill power to ensure extra loft for amazing warmth to weight ratio.
You may wonder what is DWR 400T 20 D ripstop nylon fabric? I was totally clueless until I did my research to write this article. Ripstop fabric is a durable and synthetic fabric that is used for all types of indoor and outdoor use. The fabric is coated with a nanotechnology film called DWR (durable water repellent) to help withstand above-average water exposures. This fabric is also very pliable allowing a great deal of flexibility.
The 400T is 400 thread count which is the measurement refers to the sum of the vertical and horizontal threads per square inch of fabric. The 20 D is a unit of density based on the length and weight of the fiber. "D" stands for denier which determines the thickness of the fibers. One single strand of silk is considered 1 denier. This sleeping bag has a thickness of 20 D, 400 thread count, and coated with DWR.
The sleeping bag comes with a compression sack designed to be lightweight and tough. There are four-point compression straps with black HD nylon webbing and connected quick release buckles. The whole sleeping bag can be compacted into 9″ long and 6.5″ in diameter making it easy and light to carry on hikes for camping trips.
The Good & the Bad
With every good quality, there will also exist some bad quality or complaints. You can not please everybody. I did the comparison on the overall comments of good and bad and summarized them here for your convenience.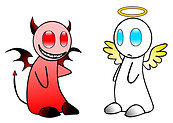 The Good:
PRO #1 Most of the comments agree that the Shavano 32 Degree F Ultralight Down is very lightweight and keeps you warm in 50 degrees F weather.
PRO #2 It is well compacted in a small bag – 9″ long and 6.5″ in diameter.
PRO #3 It is definitely a great price for quality down sleeping bags. The price was what caught my eyes.
The Bad:
CON #1 The common complaint was the zipper problem. The zipper seemed to be jammed and will get snagged often making it hard to get in and out of the sleeping bag.
CON #2 Another complaint was that the down did not keep warm when the temperature falls below 45 as advertised in the name Shavano 32 degrees F Ultralight. However, I did find the chart on the down sleeping bags which mentioned the temperature rating of survival at 32 degrees F and for comfort is at 60 degrees F.
CON #3 I also found one complaint mentioning that the material was not breathable and leaked feather.
Who is Shavano 32 Degree F Ultralight Down For?
The down sleeping bag is great for outdoor enthusiasts who love to camp and look for premium quality products to keep warm and travel light at an affordable price.
Shavano 32 Degree F Ultralight Down Support
100% Money Back Guarantee – if you don't love the sleeping bag, Hyke & Byke suggest that you return it within 30 days of delivery for a full refund. It has a lifetime warranty toward manufacturing defects. Hyke & Byke will replace the product, limited to one full replacement.
There is also a webpage on how to care for the down sleeping bags –> Click here for the LINK.
Shavano 32 Degree F Ultralight Down Price
Hyke & Byke's business model revolves around keeping operating costs low for premium quality products at the best price. The business is running completely cloud-based with minimal overheads such as servers, commercial property, extra equipment, and hardware. Other brands charge $220 or more for similar down sleeping bags while Hyke & Byke charges half the price.
My Final Opinion of Shavano 32 Degree F Ultralight Down
I bought myself a Shavano 32 Degree F Ultralight Down sleeping bag and it was amazing. First of all, I love how it feels. The fabric is cool to the touch and very soft to cuddle in. I have very rough and callused heels from lots of barefoot walking so my heels are easily snagged by the fabric such as silk or certain other fabrics. It felt very uncomfortable. However, when I slid myself into this sleeping bag, my heels were not snagged at all. It was nice, smooth, and soft. I love it.
We went camping mid-March in Tennessee for a rock-climbing expedition so the weather was questionable. It was my first time trying out the sleeping bag and it kept me warm throughout the night. The weather was skirting around mid 45 to 50 degrees with a heavy rainstorm during the night. I kept my socks on just in case but wearing socks was too hot for me.
The sleeping bag is very light. I was pleasantly surprised at how easily I could compress the whole sleeping bag in a small bag that came with it. It is also very simple to care for. There are instructions available on the Hyke & Byke website on how to care for your down sleeping bags.
I do not have any complaints so far. I am excited and eager for more camping trips to use my sleeping bag again in the near future.
Shavano 32 Degree F Ultralight Down at a Glance…
Name: Shavano 32 Degree F Ultralight Down
Name: Hyke & Byke Shavano 32 F Ultralight Mummy Down Sleeping Bag
Website: Amazon.com
Owners: Hyke & Byke, Daniel (one of the owners)
Warranty: Lifetime warranty on manufacturing defects
Overall Rank: 4.4 stars out of 5 (Reviews from Amazon customers)
Where to Buy: Amazon.com
VERDICT: TOTALLY LEGIT
Please follow and like us: