Labor Day three day weekend was our warrior Linville Falls camping road trip. Our destination was Linville Falls, North Carolina for an outdoor rock climbing experience. Wahoo! I love road trips. It was definitely an adventure. There were plenty of obstacles for sure but it was totally worthwhile of a priceless experience. I had fun however there was not enough climbing. I am craving for more, must create another climbing road trip. =)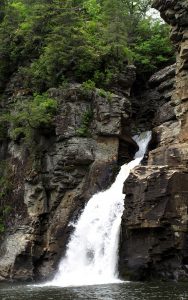 Our adventure began on a Friday night around 9 pm.  Google Maps told us it would take about 8 hours and 55 minutes. We arrived at Linville Falls around 10 am Saturday morning. Yes, we drove through the night. My husband did most of the driving and I did most of the snoozing. It only took us 13 hours after many pee/gas breaks, driving through windy mountain roads, and getting lost. I don't think Google took account of the time frame when driving through windy mountain roads. We arrived at the wrong campground.
It rained when we started and throughout most of the drive as if the rain had followed us. I began to wonder if we chose a bad weekend to climb. However, it was too late to back out now. We began our journey and moved forward hoping that we can climb on Saturday. The previous week, Hurricane Harvey brought rain and flood to Houston and this week it brought more rain toward Louisiana and further north.
Where we stayed
Did you know that there are two campgrounds in Linville Falls? We booked our stay at the Linville Falls Campground in Blue Ridge Parkway which was State regulated. The other campground was Linville Falls Trailer Lodge and Campground which was privately regulated. For future reference, I would prefer Linville Falls Trailer Lodge and Campground because they have hot water. The state-regulated campground did not have hot water.
The primary reason why we didn't go to the hot water campground was that it was sold out online. However, when we drove to the wrong campground, we found out that we should of call instead of trusting the online website. If we call 2 or 3 weeks in advance, usually there will be availability. The online registration is not always correct. Oh well, good to know and a great lesson learned.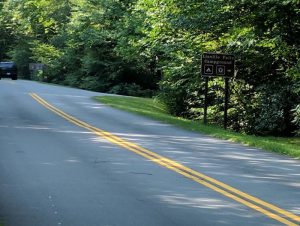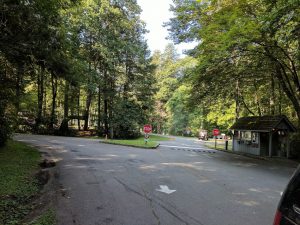 There are multiple options for staying the nights: hotels, hostels, bed and breakfast places, or camping. We have a dog and would like to go the cheapo route so we chose camping. Note, not all campsites have hot water showers as well as regular toilets or electricity.
There are different campsites for different options where there are bare essentials for camping such as water and toilet (could be an outhouse or regular toilets). The campground we stayed at has drinking water and regular toilets. It was $20/night. They also have hook up for campers such as water and electricity. This option was sold out. There are certain areas of the National Park that you can camp with no fees. There will be no freshwater or flushed toilets. Remember, always read thoroughly regarding the amenities offered at campsites before booking.
The Linville Falls Campground in Blue Ridge Parkway served us well. The bathroom was nice and clean with regular flush-able toilets. There were plenty of shades and trees so we were able to hang up our special new tree tent. It was the best thing ever!!!
Where we climbed
Once set up camp, we headed off to Linville Gorge for rock climbing, finally. Yippee!!! The weather was overcast and drizzling. Despite the weather, we headed off with a determination to climb.
Linville Gorge – Table Rock
Our goal was to climb Table Rock at Linville Gorge. We planned to look for a route called Jim Dandy, a 5.4 multi-pitch.  A pitch is a section of a route that requires a rope with a belayer and climber up to the top of the climb. The standard top of the climb is usually 50 meters high, the distance of a standard rope. Multi-pitch is more than one pitch or section of a climb of 50 meters high. This is very general terms for the sake of simplicity in defining pitches. There are a variety of meanings that can be more complicated. Jim Dandy has three pitches which are 3 times 50 meters. We were hoping to climb the first two pitches.
However, with the hike in, we got a bit lost. We missed the turnoff to the climbing location and kept on walking around the mountain the long way. There were many hiking trails which branches off that one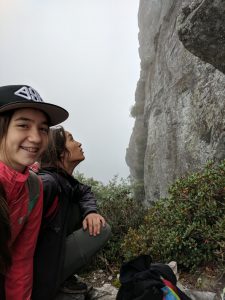 can definitely get lost regardless of how good the directions are given by the book. In our case, our 30-minute hike turned into a 3-hour hike.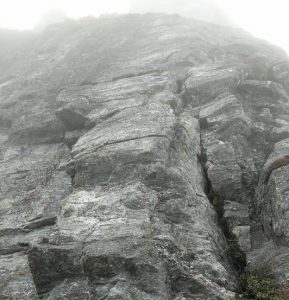 We ended up circling Table rock from the west side up to the base of a route called North Ridge around 3 pm.
In celebration, we took a few pictures up top to prove that we made it. It was getting late and everything was kinda wet and misty from the previous rain, we decided to just hike back.
On the way back, we passed climbers which was a great sign. We passed Jim Dandy. Oh well, we'll have to climb it another time. Heading back was another challenge. Once again we took the wrong turn which we thought was the correct turn and ended up at North Carolina Outward Bound (NCOB) home base which was possibly 1.5 miles south of the original parking lot where we parked our car. Luckily we bumped into Aaron who worked at NCOB. She showed us the way to track back to the parking lot.
It seemed like forever as we walked back through the suggested zigzag path. We started to doubt ourselves and felt insecure in our direction. We were walking yet at least another half hour and everything looked unfamiliar. We stopped for a brief moment to re-analyze where we were. Luckily, we heard the sound of passing cars not too far in the distance. We continued to follow the path and finally found ourselves on the road. The road led us not too far from the main parking lot where we parked. Whew! We made it back in one piece by 5:30 pm. It was still daylight.
Looking Glass Falls – Furthest North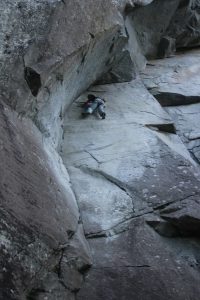 We didn't climb Saturday as we hoped but determined to climb on Sunday. On Sunday, we decided to drive to Looking Glass Falls which was about 1 hour and 40 minutes from where we were. This time we had no problem finding Looking Glass Falls. We parked and hiked up to the North part of the Looking Glass section.
We climbed a route called The Seal.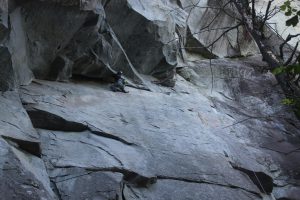 We started climbing at around 3 pm. Our friend set up anchors and lead the route. It was rated as a 5.9.  I found it to be pretty challenging and fun. My son completed a climb with top-roping called Killer Whale nearby. The route was rated 5.11a.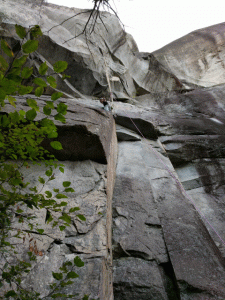 By 6:40 pm, my son finished the climb with Killer Whale. It was getting late and the sun was setting. We hiked back before it got dark. All in all, we climbed at least one route each which left me itching for more. However, we all had fun. It was a great adventure of finding climbing routes.
I learned lots regarding this trip. One important factor I learned was that we cannot rely only on directions from books.  Constant alertness and staying calm helped got ourselves back on track when we were lost. Our group had a good attitude which carried us through a long way so that we didn't get on each other's nerves. We enjoyed ourselves regardless. One downside about climbing outdoors is that there is no guarantee in getting any climbs in at all because there are so many possible variables such as rain, getting lost, etc…
On the second day of our camping trip, the weather was beautiful and sunny. You never know what the weather is going to be until you get to the destination. I learned to not allow the weather to dictate what our plans were. There are always exceptions and make back up plans just in case. Part of the experience of climbing outdoor is the search for the location as well as dealing with the environment. Be ready for serendipity. If you are into adventure and serendipity then rock climbing outdoor is for you.
Have you climbed at Linville Gorge or did Linville Falls camping? Regardless if you have done it or not, I would love to hear your thoughts or perspective on climbing outdoors. Please leave your comments below.
Please follow and like us: