From my own finger climbing injuries, I documented and gathered a list of items and equipment that I used to heal my fingers. In this article, I shall share and review the finger strengtheners and other items I came across during my research to help people who may have similar injuries.
It is common for the arthritis joint of the fingers to swell when we overwork the tendon and ligament in the fingers. The best thing is to reduce the swelling and then strengthen the ligament and tendon to protect the joints with different finger exercises.
There are different ways to reduce swelling. Here are 4 that I know of:
Medication – steroid pills such as Prednisone or steroid injection. This is the fastest way to bring down the swelling and reduce the pain. However, with medication, there usually come side effects and may weaken your immune system. Everybody is different so it is hard to pinpoint how it is going to affect one person over another. Here is a link to an article from MedicalNewsToday.com that tells more about Prednisone tablets and the common side effects –> Prednisone, Oral Tablet. For me, I was prescribed to take Prednisone. I didn't notice any side effects while taking them. The swelling went down twice the size in two days. After two weeks, the swelling went down 95%. There is a small 5% swelling left in my joint. I took Prednisone for 12 days. By the end of my 13th day, I had a huge dull headache. It was hard to tell if I was affected by no longer taking Prednisone or I was stressed because of lack of sleep. The headache lasted for 2 days.
REDOX Supplement — There are no side effects. I have a whole article dedicated to reviewing this supplement. Please click on Asea Supplement to learn more.
lotion or gel – Voltaren Gel. Lotion applies to the skin is effective. Voltaren used to be prescribed but now it is available over the counter.
Icing – soak in ice water for several minutes. Soaking in ice water is also a great way to reduce inflammation. This takes time and patient.
Once the swelling is down, soak it in warm water for 5 minutes. I gauge the temperature as hot as my hand can endure from 112 – 115 degrees Fahrenheit. After soaking in warm water, I work out my finger exercises.
As the owner of this website, I tracked down special deals for some products or services mentioned herein. As an Amazon Associate, I earn from qualifying purchases. When you use the link from this page to make a purchase, I may receive a small commission to support this website, and you may receive a great bargain – Full Disclosure
Here are my reviews of the different supplies that could help to treat the arthritis fingers:
Voltaren Gel
I didn't find out about this gel until I was already taking the Prednisone. I wish I came across this first. However, it is ok because I can definitely use this in the future.
With a proven safety profile, Voltaren gel contains a topical nonsteroidal anti-inflammatory drug (NSAID) to alleviate joint pain due to arthritis in the hands, wrists, elbows, feet, ankles, and knees. It is the #1 topical gel recommended by doctors.
According to Peoplepharmacy.com, in 2007, Voltaren Gel was first approved as a topical prescription anti-inflammatory agent in the US while other countries such as Australia, New Zealand, Canada, Italy, the UK, and other countries could buy it over the counter. On Valentines Day 2020, the FDA finally approved Voltaren Gel for over-the-counter in the US.

Average Customer Rank: 4.4/5
Specs
Active Ingredients: 1% Diclofenac sodium. It is a nonsteroidal anti-inflammatory drug (NSAID). Diclofenac sodium temporarily blocks the production of pain-signaling chemicals called prostaglandins.
Voltaren Emulgel™ – specialized formula combined with gel and cream with an active ingredient, diclofenac, to penetrate deep at the painful location.
An alternative to pills, the topical absorbed through the skin and not the stomach
Relieves arthritis pain, reduce stiffness, and improve mobility
Non-greasy and clean scent, Paraben-and dye-free
Over-the-counter (OTC) gel with a prescription strength and #1 recommended by doctors.
The gel can be used for up to 21 days without consulting a doctor.
Comes in a tube and easy twist cap

Complaints:
There are warnings for side effects and allergy reactions. Please see below for the warning label before purchase: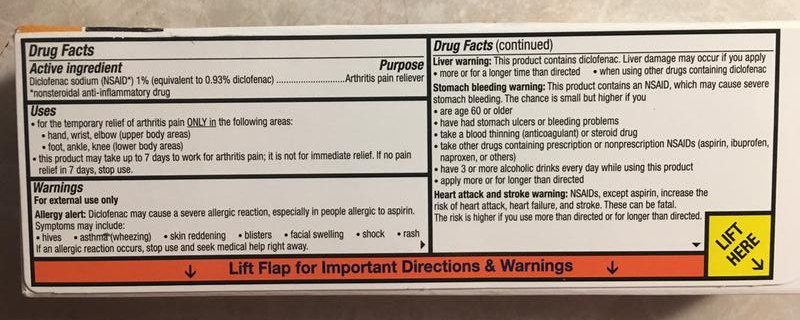 There were complaints regarding cost-effectiveness. The expense adds up when using according to recommended dosage 4 times a day for effectiveness. If we apply different locations such as two knees or elbows that may require 4 to 5 tubes per week.
Voltaren has not been studied for the relief of arthritis pain in the shoulders, hips, and back. Consult your doctor. Some people found it does help.
Voltaren may take up to 7 days to work for arthritis pain. It is not for immediate relief. If there is no relief of pain in 7 days, stop use.
Where to Buy:  Amazon.com
Hand Grip Strengtheners, Finger Exerciser, Grip Strength Trainer (6 PCS)
I have not used these hand grip strengtheners yet. They look simple and effective. I came across these grips while researching exercises to strengthen my fingers. There are different resistance levels for different levels of difficulty.
Average Customer Rank: 4.7/5
Specs:
Top-quality silicone and washable
3 pieces finger stretchers & 3 pieces hand grips
Color-coded resistance level – green is the least, blue is the middle, and orange is the most.

Easy to carry anywhere
strengthen your wrists and hands and improve the dexterity of the fingers for climbing
rehabilitation and prevention for arthritis, carpal tunnel, tendonitis, tennis elbow, and other hand injuries.
different levels of intensity
good finger and hand exercises for anyone who plays an instrument or writes/types a lot
Easy to clean with soap and water
Complaints:
One common complaint is that they do not last long before they tear. Some last a few weeks and some last several months.
Too hard for beginners
One size does not fit all
limited instructions
Where to Buy:  Amazon.com
Assorted Rubber bands
Another way to strengthen your fingers is to use a rubber band.  It is not fancy but simple and effective. You can double up for more resistance. Also, the thicker the rubber band the more resistance. It will fit any size hands. I used rubber bands for my finger therapy.

Average Customer Rank: 4.6/5
Specs:
The Package Includes 300 gr Rubber Band In Assorted Color (Red, Blue, and Yellow)
Mix Of Sizes and colors includes #64 (3-1/2 x 1/4 Inches), #33 (3-1/2 x 1/8 Inches), And #19 (3-1/2 x 1/16 Inches)
Multi-purpose. You can use it for office supplies as well as finger strengtheners.
Strong bands and good quality
fit different size hands
Inexpensive

Complaints:
rubber odor and taste residue left on hand
can break and the elastic will decrease over time
Where to Buy:  Amazon.com
VIVE Therapy Putty
Looking for something soft and easy on the fingers? These putty come in 4 different resistance levels from extra soft to firm. You can squeeze, pinch, stretch, and twist to strengthen the hand muscles. They are great for rehabilitating hands and fingers, strengthening grip, relieving stress, and improving dexterity and fine motor skills.

Average Customer Rank: 4.6/5
Specs:
Odorless and non-toxic silicone
Three-ounces putty (size of a golf ball) of each color with four color-coded resistance levels: yellow – extra soft, red – soft, green – medium, blue – firm
60 days guarantee
comes with a list of exercises and instructions
waterproof and does not dry out quickly
great for any size hands
different levels of resistance to help strengthen the grip

Complaints:
may stain on the fabric

sticks to everything and is messy

Where to Buy:  Amazon.com
Senkary Finger Sleeves
There are 20 pieces of finger sleeves. They serve as finger compression for relieving pain, arthritis, trigger finger, and support for sports such as basketball, golf, tennis, or rock climbing. I find them helpful for my arthritis fingers when climbing. Instead of taping my fingers, I put on the sleeves.

Average Customer Rank: 4.2/5
Specs:
20 pieces finger splint support brace
flexible and breathable nylon fabric, spandex, and gelatin silk
provide compression and cushion for finger knuckles
hand wash or machine washable
slightly different sizes to fit all fingers
available in black, blue, light blue, red, or green
Complaints:
too small for men's hands or too big

too tight and made fingers numb
Where to Buy:  Amazon.com
I love to hear what works for you. Please leave your comments or questions below. I will get back to you within 24 hours.
Please follow and like us: