Since my kids have been on a rock climbing team, we have been participating in outdoor climbing trips over spring break almost every year. We missed the spring break for 2020 because of the pandemic. This year will be our last year on the team because my youngest is aging out. I was determined to have a Foster Falls rock climbing trip for spring break in Jasper, TN. It was a successful trip. I believe overall the team had a fun time.
In this article, I will share detailed information about Foster Falls climbing, where to go, and what to expect. It also serves as a great reference and a reminder for me to look back on what worked and what did not.
Foster Falls
Foster Falls in South Cumberland State Park is located within four different Tennessee counties: Grundy, Franklin, Marion, and Sequatchie and near Tracy City and Jasper, Tennessee. It is approximately a 45-minute drive from Chattanooga. Tennessee State Parks operates and manages South Cumberland State Park. Here is their link for more detailed information:
South Cumberland State Park — Tennessee State Parks (tnstateparks.com)
The park has some of the best hiking and backcountry camping in the region. The Fiery Gizzard Trail is a 12.5 miles long one-way trail that has been rated by Backpacker Magazine as one of the Top 25 in the country. In addition to top hiking trails, there are many fun activities available at Foster Falls such as boating, camping, fishing, golfing, horseback riding, swimming, and rock climbing. Yes, there are waterfalls. We shall focus primarily on the activity of rock climbing for this article.
As far as climbing, Foster Falls is a major location for sport climbing in the south and probably closest to me for outdoor climbing from Orlando, FL. There are trads available but much fewer than sport routes. Unfortunately, there is no mountain in Florida only sinkholes and swamps.
Where to Stay
There are many choices where you can spend the night such as  B&B, hotels, RV, or camping. You can stay in a big city such as Chattanooga 45 minutes away, small towns close to Foster Falls such as Jasper, or camping right at Foster Falls campsite.
Half of our climbing team families stayed at the Foster Falls campsite while the other half stayed at B&B or hotels. Foster Falls has campsites that serve small trailers, tents as well as a primitive camping ground. Reservations are required.
I visited South Cumberland State Park Camping — Tennessee State Parks (tnstateparks.com) to make a reservation online. Pick the dates, select campsite "Fiery Gizzard Trail", and then select the numbers in the Foster Falls Campground. All sights have a fire ring and a picnic table. There are no electric or water hook-ups. However, there are flushable restrooms and heated showers. No gas generators are allowed at the Foster Falls Campground. Pets are allowed as long as they are on a leash and owners pick up poo after their pets.
For climbing, you will need to register for a permit online. It is free and simple. Please click on
South Cumberland – Rock Climbing — Tennessee State Parks (tnstateparks.com) to register. For our group, because it was larger than 10, I called the park office (931-924-2980) to register for our climbing permit.
Where to Climb
Because not everyone stayed at the campsite, we all met at the pavilion with a parking lot near Foster Falls entrance. It was within walking distance from the campsite.
From the pavilion, take the Fiery Gizzard trail to the climbing locations. There are two trails, a lower and an upper. In my opinion, the upper trail is an easier hike to the Red Light District and Jimmy Wood Area. The lower trail takes you to the waterfall and closer to left and right bunker and Crime Buttress areas.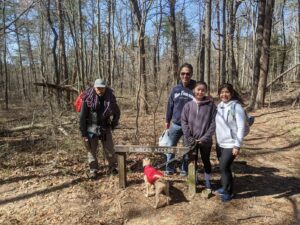 If you are taking the upper trail, make sure to keep an eye out for sign Climbers Access 1 or Climber Access 2.  These are accesses for you to merge into the different climbing areas below. The first access will get you to Jimmy Wood Area and the second access will take you to the Red Light District.
Check out the guide book or Mountain Project for detailed information. I shall share these resources below.
If you are new to leading on a sport route, I would recommend checking out an area called Rocket Slab.
It has two nice
On the first day at Foster Falls, we climbed at the Jimmywood area. It has 23 routes ranging from 5.8 – 5.11. One of our favorite routes was Bear Mountain Picnic. It has a rating of 5.8+. It is a corner route that is pretty exposed and kinda scary if you are not familiar with leading sport routes. Once you are familiar with leading, it is fun and thrilling. The first bolt is tricky with an overhang so we used the long stick to clip our first clip.
We also climbed Miss Prissy 5.9. I led Miss Scarlet 5.9. My son led Diamond Cutter 5.10c, and Mammy 5.9. By the end of the day, the weather got colder and my hands were numbed when I climbed Diamond Cutter. The rocks were cold and my fingers were painfully numb. On our way out, the team kids climbed at the Crime Buttress. My son led a route called "Standing Room Only" graded 5.11a. It was long and intense especially at the end of the day when we were tired and cold. He did not make it to the top. We had to give up 2 quickdraws because we couldn't clean the route. They came back the next day to reclaim the route but those quickdraws were picked up by someone else. Bummer!
The weather was amazingly beautiful on our second day. We split into several groups. A small group went to Stone Fort (a.k.a Little Rock City) to boulder, another group wanted to reclimb and finish "Standing Room Only", and my group climbed at the Red Light District. This crag has 18 routes.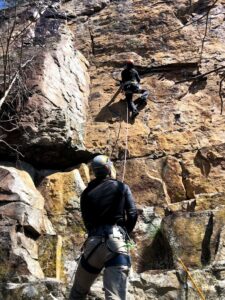 We spent our whole day at the Red Light District. We climbed Timeless Christian Values 5.9+, The Young and the Restless 5.9, On the Side 5.8 trad, Jacob's Ladder 5.8, and one more 5.11 route that I do not know the name.
Another two places that we did not have time to climb were the Left and the Right Bunker. The routes in these areas are much more challenging ranging from 5.10 – 5.13. They both are great locations to avoid sun and rain.
When to visit
Even though, you can visit Foster Fall anytime though out the year, in my opinion, the best time to climb is late spring and early fall when the weather is cool and not so much rain. Our spring break usually ends up the second week of March which is the beginning of the spring. I have been there one year when it rained so much that we had a small lake in our tent. It didn't help when we had a leak either. There were thunder and lightning, oh my. However, we still were able to find a place to climb.
For this visit, we had two good days. We left Thursday evening (3/11/21) and arrived at Foster Falls early Friday morning. Our plan was to climb Friday, Saturday, and come home Sunday after breakfast. Although the first day was wetter from the rain the day before and colder by the evening so the climbing was not as enjoyable. Everything was still wet and damp. The second day was the best. The sun came out and dried the rocks. The air was much warmer. It was a beautiful day. It was an epic day.
Conclusion
Foster Fall rock climbing trip was a success. The weather was projected to be cloudy, rainy, and cold. We still lucked out and had at least one epic sunny day. Once again, this trip reminded me that we cannot allow one bad bump to stop us from doing what we love. There will always be bumps in the road throughout life. How do you deal with the bumpy roads in your life?
As the owner of this website, I tracked down special deals for some products or services mentioned herein. As an Amazon Associate, I earn from qualifying purchases. When you use the link from this page to make a purchase, I may receive a small commission to support this website, and you may receive a great bargain – Full Disclosure.
Here are a few great resources for Foster Falls:
Mountain Project App – Download this app to your phone before you go. It is free. Mountain Project has many outdoor climbing Crags in different states in the US and International. This app is very helpful with comments from different people's experiences. They are now including indoor climbing gyms as well.
The Dixie Cragger's Atlas Climber's Guide to Tennessee, Alabama, and Georgia. Even though the mountain Project App is helpful, I find that a good guidebook is a worthwhile investment. I bought this book in 2017. It is now hard to find. The only place I found so far is used at Amazon. There is a more recent edition that has only Tennessee Volume 2 includes Foster Falls. That book is also hard to find ==> Dixie Cragger's Atlas for Tennessee Vol 2 A Climber's Guide to Tennessee.
Gaia App – This is an app that I recently encountered on one of my outdoor climbing adventures at Red Rock, NV. When your phone is out of range, this app is a GPS of the world for outdoor adventures. When climbing in the mountains, you will encounter bad or poor cell connections. Gaia app will come in handy. It uses satellite reception. The basic Gaia app is free.
If you enjoy reading this article, you may enjoy my other outdoor climbing reviews. Please visit
Outdoor Reviews – Rock Climbing for Women for more outdoor adventures at different climbing locations.
I love to hear your thoughts and experiences of Foster Falls or any other outdoor climbing adventures. Please leave your feedback or questions below.
Please follow and like us: