When you hear Nevada, the first city that comes to mind is usually Las Vegas. People normally associate Vegas with huge casinos, bright lights, and lots of gambling. However, there is more to Vegas than just slot machines. About 17 miles west of downtown Las Vegas and within Clark County is Las Vegas Red Rock Canyon National Conservation Area. This area is one of the easternmost parts of the Mojave Desert. More than two million people visit Red Rock each year.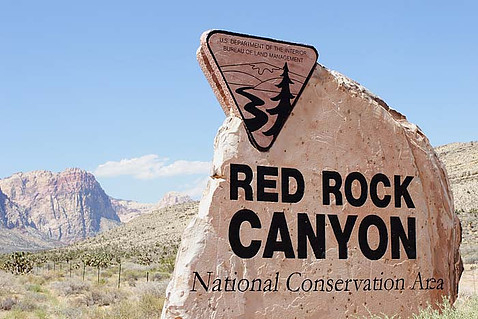 Red Rock offers a 13-mile scenic drive through the canyon. The scenic drive allows visitors to explore the canyon from their cars or bicycles. There are 26 different hikes and trails through the maze of the canyons, ledges, chimneys, chutes, and gullies from the deep canyon to the highest points for hikers or runners. Biking, off-road driving, and camping are some more outdoor fun activities. Last and not least, the great boulders and the sheer rock faces attract rock climbers from around the world.
For this article, you may have guessed. I would like to focus primarily on the rock climbing aspect of Red Rocks. Please visit RedRockCanyonlv.org to learn more details and activities in Red Rocks.
Red Rocks
Red Rocks is made up of Aztec Sandstone rise up thousands of feet high. The rock formation is about 180 to 190 million years old. The red color of the Sandstone is due to the presence of iron oxide or hematite. The exposure to weather and wind caused the iron minerals to rust resulting in red, orange, and brown-colored rocks.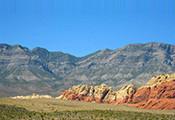 Over 2300 climbing routes, reliable sunny weather, and beautiful surroundings make Red Rocks one of North America's best and most popular climbing destinations during the fall, winter, and spring. There are a variety of challenges from easy to difficult and from short to long. Red Rock offers climbers sport routes and traditional single pitch routes up to 20-pitch routes. Red Rocks is also known for its many trad multi-pitches.
If you are not familiar with the sport, traditional, or multi-pitch, here are more articles with details:
With the current Covid19 restrictions, visitors are required to make reservations ahead of time and/or online starting November 3, 2020, through May 30, 2021. Click here to make your reservation ==> Red Rock Reservations for Timed Entry.
Operating Hours
The operating hours for The Scenic Drive are open every day of the year with hours varying with the seasons. Please visit Red Rock Canyon Hours for the up to date operating hours.
November – February: 6am to 5pm
March: 6am to 7pm
April – September: 6am to 8pm
October: 6 am to 7 pm
Pets are allowed in the park and along the trails. They must be on a leash at all times and never left unattended including inside a vehicle. Pick up after pet's wastes and human wastes properly. The Las Vegas Climbers Liaison Council provides "wag bags" free of charge in several climbing locations (Black Velvet, First Pullout, Kraft Mtn/Bouldering, The Gallery, and The Black Corridor) to pack and carry out your waste.
Certain multi-pitch routes may require late-exit or multi-day climbs. Therefore, climbers will need to submit requests for late exit or overnight permits. There is no cost to acquire the late-exit permit. However, there is a 50-cent processing fee. It will cost you even more if you run late on a climb and did not request a late exit permit.
Late Exit Permits
Vehicles left inside the park after hours are subject to a heavy fine ($120 in 2016) which also includes the parking area beside the fee station at the Scenic Drive entrance. Late exit permits and high-country backpacking permit requests are available via submission online. To inquire more details for late exit permits, please visit Late Exit Permit and to acquire the permit, click on recreation site pass.
Fees and Passes
Visitors can also click on ==> Red Rock Entry Fees for the latest Fees and Passes. If you are climbing at Red Rock for more than two days, then the Red Rock Annual Pass would be the least expensive pass to purchase. The current 2020, fees for entrance to Red Rock are the following:
| | | |
| --- | --- | --- |
| Type of Entry | Length of Pass | Current Fees |
| Car/Truck | 1 Day | $15 per vehicle |
| Motorcycle | 1 Day | $10 per vehicle |
| Bicycle/Pedestrian | 1 Day | $5 per person |
| Commercial Tour Vehicle(bus, limo, taxi, ride-share, etc.) | 1 Day | $15 per vehicle + $5 per person |
| Type of Pass | Length of Pass | Current Fee |
| Red Rock Annual Pass | Yearly Pass | $30 per person |
| America the Beautiful Annual Pass | Yearly Pass | $80 per person |
| America the Beautiful Military Annual Pass | Yearly Pass | Free (active-duty military only) |
| America the Beautiful Annual Senior Pass | Yearly Pass | $20 – Seniors age 62 and above |
| America the Beautiful Senior Pass | Lifetime | $80 – Seniors age 62 and above |
| America the Beautiful Access Pass | Lifetime | Free – medically determined to be permanently disabled |
A portion of the proceeds from passes purchased at Red Rock Canyon National Conservation Area stay in the area and help fund the Visitor Center and our many public programs. All passes can be purchased or acquired at the Red Rock Canyon Fee Station.
Where to Stay
Camping is the least expensive route. Visitors may reserve campground sites at Red Rock Canyon Campground online or by phone for campground inquiries at 702-515-5387. The campground is located at 3293 Moenkopi Rd., Las Vegas, NV 89161. The price varies from $10 to $60 for walk-to sites, standard, RV, and group campsites. Individual sites can be reserved up to six months in advance and not less than 48 hours of the desired arrival date. The campground is closed in June, July, and August.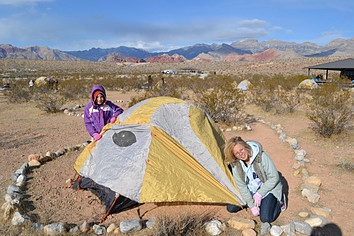 There are limited cell phone coverage and no hookup services (electrical, propane/gas, water tank filling, or water disposal). The amenities are vault toilets, picnic tables, drinking water, water spigot, campfire rings, tent pad, fire pit, and grills. Pets are allowed. Showers are available for $4.00 at the Red Rock Climbing Center, 8201 W. Charleston Blvd. Their phone numbers are 702-254-5604.
A camper van is another alternative next to having an RV. Many dirtbag climbers convert a van into a sleeping camper. Live a cheap lifestyle and close to the climbing crags as possible with the intention of climbing all day and sleep in the van at night.
For creatures of comfort, hotels, casinos, or bed and breakfast are another option. Red Rocks is only 17 miles away from downtown Las Vegas. There are plenty of hotels and casinos available to choose from. Price and availability may vary depending on locations and time of the year.
Last but not least, another place to stay is to bunk with friends or family members in Vegas. I was fortunate to have a friend who lives in Vegas. We stayed with my friend for our most recent visit to Red Rocks.
Guides to Explore
If you have climbed only indoors and not familiar with climbing outdoor, I highly recommend hiring a guide and especially if you are climbing multi-pitch routes. Red Rocks has plenty of multi-pitch routes where you do not have to deal with the crowds. If you have friends who have the experience of outdoor climbing and have their own climbing equipment, that is even better. Climbing guides are expensive. The price varies from $100 to $800 per day depending on your skill levels, half-day, full-day, or how many people to a group.
There is a hand full of climbing guide services available. Most of the guides offer a half-day trip (4 hours) or full-day (8 hours) trip climbing short routes or a moderately long, 2-3 pitch climb. They cater to different skill level climbers from beginners to experienced. I am listing the top three through my own research and referrals:
Red Rock Climbing Center Climbing Guides – Currently, they are the only locally owned guide service in Las Vegas. They also have a climbing gym located at 8201 W. Charleston Blvd, Suite 150, Las Vegas, NV 89117.
The Mountain Guides – The Mountain Guides' home office is in Jackson, Wyoming with an extensive experience in mountain guide since 1968 in Grand Teton National Park. Their climbing guides extend to Red Rock Nevada as well as Utah and Colorado.
American Alpine Institute – American Alpine Institute (AAI) was founded in 1975. The home office is located in Washington. AAI is well-known worldwide for its advanced training at all skill levels (beginners to masters) and expeditions throughout the year in six states and 16 countries. The AAI staff is experienced and accomplished climbers, skiers, and mountain educators. Along with the outstanding skills of staff, AAI is an advocate for public service in the areas of environmental protection and public land policy.
Besides climbing guides, there are books, apps for smartphones, and internet resources available to aid in learning more about Red Rocks and where to climb. From my research, I found "Red Rocks A Climber's Guide" (Second Edition) by Jerry Handren to be extremely helpful in climbing at Red Rock. This book provides details and 496 pages of color photos for over 2300 climbing routes in Red Rocks. It is a pretty heavy book.
I also found the Mountain Project app very helpful with up-to-date information and comments from different climbers for climbing outdoors and indoors all over the US and in other countries. We used both Mountain Project and the book as my guide for our most recent travel to Red Rock.
We also learned about the Gaia App when we were ad Red Rock. It is a GPS of the world for outdoor adventures. Red Rock has poor cell connections in certain areas. That is when the Gaia App comes in handy. It uses the satellite for the reception. The basic Gaia with the common mapped area is free. To access more available areas with the ability to download worldwide maps, you will need to purchase a membership.
Where to Climb
We were in Red Rock for four days and we climbed all four days. We were climbing Rambo. Once we arrived at the airport around noon, our friend picked us up and we drove straight to Calico Basin. To access Calico Basin, we did not have to enter Red Rock Park. With COVID19 restrictions and limited time on our first day, we thought it would be best to climb outside of the park and not deal with permits and registrations. Calico Basin is technically located in the residential area.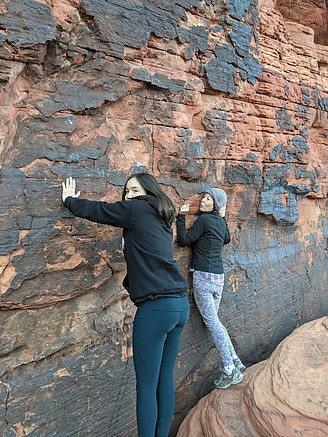 There were plenty of climbing routes with a variety of short trad and sport to keep us busy. We can climb Calico Basin for all four days and would not be able to climb everything. We picked Cut Your Teeth Crag. We finally arrived at the destination by 2 pm after strenuous climbing over boulders and asking people along the way. Once we settled down after the arduous hike, we were freezing. The cold wind of the dessert was settling in. Luckily, the crag was facing the sun all day long, the rock wall was warm. It was our saving grace. We set up and climbed a sport route called Interproximal Stripper 5.7 and set up a top rope route to the right which was a 5.7 / 5.8. We didn't have much time for more. The sun was setting so it was best to wrap up and head home by 5 pm.
We had reservations for the next three days to enter Red Rock National Park. We arrived at 8 am at the gate each day. We were expecting crowds because of the Thanksgiving Holiday so the earlier we were there the better. Our second-day destination was the second pullout of Calico Hills. We hiked to the Meetup Wall Crag. It was deep in there. We were thankful to meet someone who introduced us to the Gaia App. We followed them part of the way and got directly to the Meetup Wall.
I almost forgot. We found a fresh blood trail along our hike. Weird thoughts ran through our minds. Hopefully, that person was not badly hurt. The trail led us close to the Meetup Wall. It would not be easy to find if we didn't bump into people and follow the blood trail. We climbed Let's Meetup 5.7, The Massage Board 5.7, The Pumpkin King 5.10a/b, and Sally 5.9. I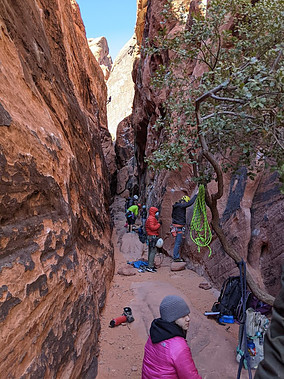 enjoyed leading Sally and top-roped the Pumpkin King.
On our way down, we stopped at the Black Corridor. There were so many fun climbs here that we did not have time to check out. We climbed Bonaire 5.9 and an unknown name (AKA L3) 5.9. It was a long corridor with left and right 5.9 – 5.11 sport routes. It was also crowded. We didn't have much time to hang out. Definitely, a great place to climb in the spring or summer because of the shade.
For the third day which was Thanksgiving, we checked out the first pullout at Calico Hills. Our destination was the Panty Wall. We spent a full day climbing all sorts of panties. We climbed the Silk Panties 5.7, The Last panty 5.7, Black Lace 5.8, Boxer Rebellion 5.8, and Cover My Buttress 5.6 trad route. It was so much fun.
On our fourth day, we aimed for the Magical Bus at the second pullout of Calico Hills. It took us at least an hour to find the location. Finding was the tricky part. I think we might have hiked up the hard and roundabout way. I am not sure if I can find my way again. The slab shapes almost like a large bus. There were a total of seven 5.8 and 5.9 routes. I believe we may have climbed five or six of those routes. We climbed until 4 pm and headed back down. Hiking down was shorter but somehow seemed steeper. We took a different direction hoping that it would be easier but not quite. We made it back to the parking area safely.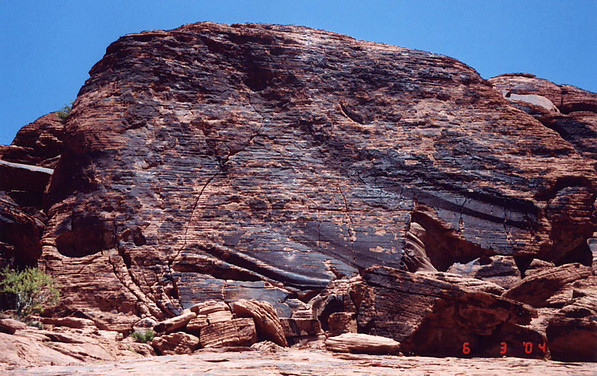 Quick perspective question. There are no right or wrong answers. From the picture of the Magic Bus, which side is the front of the bus? You can leave your answers in the comment. Looking forward to hearing your thoughts.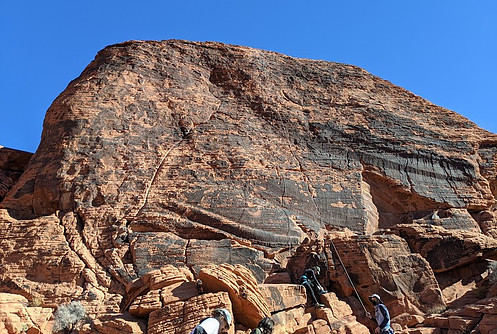 Here is a picture with us in it so we can see how big the bus is.
Conclusion
Because of the COVID19 pandemic, a reservation for park entrance was highly encouraged or you may be turned away to prevent overcrowding. Many locals arrived as early as 8 am to ensure a parking spot. We showed up at 8 am or earlier each day. When we parked at the second pullout for Calico Hills, the parking lot filled up pretty quickly by 8:30 am. It was a small parking lot. On top of the COVID19 restrictions, we climbed during the Thanksgiving holiday. They expected the park to be much busier.
The sandstone rock texture is sharp and rough much different from Looking Glass granite in North Carolina texture. However, there are lips, ledges, and nice handles for a good grip available making it easy to climb than Looking Glass.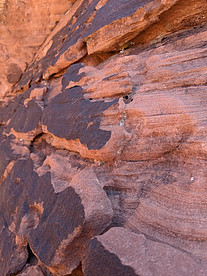 During our stay, the air was chilly in the morning around the mid to high 40s. When the sun came out, the air warmed up quickly to the mid-60s by the afternoon. We were very fortunate to not encounter high wind. We dressed in layers with beanies for the head and gloves to stay warm. The routes we climbed were mostly facing the sun throughout the day so that helped warm us up. Luckily, Vegas is mostly sunny during the year. It is dangerous and not fun to climb in Red Rocks during and after the rain. The sandstone is fragile and easily damaged when wet. The holds rip off easily.
All in all, we had an amazing and successful trip to Red Rock. Everyone had fun and we came home in one piece. We arrived with an intention to learn to trad. We refreshed our memories on how to repel, clean routes, and create anchors. My family and I were able to celebrate Thanksgiving with my friend and her hubby. We achieved our goals.
Have you been to Red Rocks? Would you like to climb outdoor? Whether if you have been climbing outdoor or not, I love to hear your personal experiences. Please leave me your questions and comments below.
Please follow and like us: