My son has been participating in rock climbing since 2011 and every year I received the same question from parents (myself included) "Are there used rock climbing gear available for kids?" Rock climbing shoes are the most popular items. Every year, I would reply "I don't know. I don't think so." Then the light bulb came on. Well, why don't I start one? The goal is to create a win-win scenario (I know it's a cliche but I couldn't help myself.) This is a great way to make rock climbing affordable for everyone.
Looking for a decent used pair of shoes (other than rentals) that does not cost too much for your kids or yourself to try out? Would you like to participate in a Rock Gear Swap?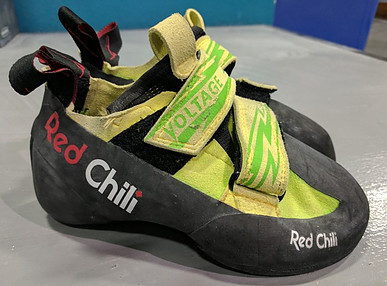 Why Sell Used Gear?
Kids up to the age of 18 are constantly growing and they outgrow their clothes, shoes, etc very quickly. My son went through 2 sizes of climbing shoes in one summer. Rock shoes can get expensive especially as intermediate to advance shoes. They cost at least $170 a pair. Ouch! What do we do with the used almost new shoes when our kids grew out of them unexpectedly?
It does not have to be limited to climbing shoes. It can be a harness or any rock climbing equipment. Another reason to sell your used gear is when your kids found another interest like having a boyfriend, girlfriend, new sport, or social club. OR you want to sell because you no longer have the time to climb?
Why Buy Used Gear?
I can think of three great reasons for used gears:
Inexpensive (or also known as cheap for bargain hunters) – You don't have to pay the full price of a new pair. Sometimes the used pairs are barely used because the kid outgrew his or her shoes so quickly like mine.
Kids grow out of their shoes quickly – Between the age of 12 and 18, there is a growth spurt in there somewhere. Instead of spending the money on a new pair, they can use the used pair until they grow out of them.
Try out a new sport and not sure if you'll stay in it. Your kids can be finicky. You can use the extra saving to spend on additional climbing equipment.
You can always rent a pair of climbing shoes. However, rental shoes do not work as well as your own shoes. Many people have been wearing in and out of these shoes. Unless they are relatively new, the shoe rubber is not as good as it could be.
The Good and the Bad of used Gear
The Good –
The positive side of using used shoes is that leather is more relaxed. You do not have to go through the painful period of breaking them in. It is not a gratifying feeling.
Did I mention that you can save money and use the extra saving for other climbing gear?
Share the love of climbing. If you have a pair of shoes or a harness sitting in your closet collecting dust, there is usually someone who will definitely benefit from your gently used equipment.
The Bad
It is used and some people like their stuff brand new.
Safety reasons such as a climbing rope. Always make sure a used rope does not have any cuts or tear in the rope and it is in excellent condition. Sometimes, a climber used it only once or twice and found that they do not like climbing as much as they thought so they prefer to sell it or give to someone who can get much more benefit out of it.
Shoe Resole
What do you do when you or your kid find little holes in the toe of the shoes? As an inexperienced climber, sometimes we wear out our shoes make quicker because we have a tendency of dragging our feet against the wall more often leaving rubber marks behind on the wall. Dragging your feet can wear down the rubber much quicker.
You can have your climbing shoes resole instead of buying a brand new pair. There is a handful of specialized shops that will resole your shoes much cheaper than buying a new pair. If your shoes are already cheap like under $70 then you may consider buying a new pair instead of fixing them. Don't wait until your big toe sticks out of the shoes. This may be too late to repair. Always check with the resole shop first to see if they can mend it before you send it.
You can do a web search for resole shoes. Here are three places I found that looks pretty good:
Rock and Resole – I have used them several times already. They did a great job each time. They are located in Boulder, Colorado. The turn around time is around 4 to 5 weeks so make sure to have a second pair in handy to swap when you send your broken pair for repairs.
Yosemite Bum – I have not used this shop yet. They look interesting. They are located in Buena Park, CA. Their current turn around time is 4 to 5 business days which is quicker than Rock and Resole.
The Rubber Room – This particular shop is in Bishop, CA. I have not used them yet. Their current turn around time is 5 to 6 weeks.
My Final Thoughts
I wish there was a gear swap when my son first started. That would save us lots of money while he grew… Oh well, it could save you guys some money now and maybe me someday for my own shoes. If one person benefits, I have achieved my goal.
Also, remember to always check all the equipment or gear that you buy used or even new for any defects as well as extreme wear and tear. You are responsible for your own safety.
I created a group forum from the slack channel. It is an app that you can use from your computer as well as your mobile devices such as an android phone, iPhone, or iPad. I called my slack channel "Rock Gear Swap".
===> CLICK HERE to join my Rock Gear Swap forum <=== to start buying and selling used gear.
I also started a seeking for climbing partner channel as well as harnesses. If you see other opportunities or channels that you like to add, please let me know and we can definitely create it together. My goal is to create a channel that would benefit everyone. Looking forward to hearing from you.
Please follow and like us: