There are many different styles and types of climbing shoes for beginners to advance. I have written an article on climbing shoes with more details to help a new climber understand the different options. Please visit my climbing shoe page for more information.
This article is a review for Red Chili Voltage rock climbing shoes, my current favorite.
I participated in a sport climbing competition at Vertical Adventure in March 2017. In the past, I would be the only older woman competing. However this time to my surprise, there were more than four women in my age group. I am proud to say that I won first place in the women's master division (45 years and older). I was quite stoke. I won my very first Red Chili climbing shoes.
There were a few selections of climbing shoes from Red Chili. The Voltage was their latest and greatest advance climbing shoes for 2017. I rated myself as an almost intermediate climber so the Voltage would be a little bit more advance for me. However, I was up to the challenge. If I can break them in, the Voltage could definitely improve my footwork performance.
I normally wear a 35 European size (equivalent to 3½ US men or 4½ US women) climbing shoe size. I ordered the smallest size (35.5 European size or 4 US men) of the Red Chili Voltage that they have in hope that the shoes will fit me.
I struggled for the first month with the new shoes. It was slightly bigger but not too much. I tightened the velcro and that helped. It took me several weeks to break into the leather and it took me at least six months to learn how to use the edges and take advantage of the downturn part of the shoes.
As the owner of this website, I tracked down special deals for some products or services mentioned herein. As an Amazon Associate, I earn from qualifying purchases. When you use the link from this page to make a purchase, I may receive a small commission to support this website, and you may receive a great bargain – Full Disclosure.
PROS
Once I discovered how to use the edges, I was amazed at the grippy rubber toe. My feet performance improved tremendously. The Voltage help improved my footwork in sport climbing as well as bouldering.
The Voltage trained me to be more precise and deliberate with my steps. There is very little room to be sloppy with my feet. The rubber is totally awesome that sticks my feet to hold firmly. In turn, I trust my feet more. That is key for me in my climbing improvement.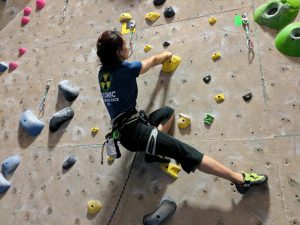 I am usually not a fan of bouldering but now I feel more confident in climbing some V4s. I am also feeling bold in taking advantage of the heel to heel hook on inverted routes. Before my Voltage, I was climbing V2s and occasional V3s in bouldering and 5.10 with occasional 5.11 in sport routes. Now I can climb more 5.11s and slowly working up to 5.12s.
As far as the comfort and looks, I love the two tabs at the heel of the shoes. I can slide my feet in and out easily. The bright yellow and green colors are a great combination for a nice appealing look. Last but not least, I personally like the velcro closure instead of the lace-up version. I do not like to walk in climbing shoes. It is easy to get in and out faster in between climbs.
CONS
I have three complaints about climbing shoes in general:
I have to endure the painful process of breaking in new leather. It took me several months to break in a pair of climbing shoes. Because of the downturn, it took some used to and could be painful for the beginner and everyday climbing. Although for the Voltage, the bulk of the months were the learning curve on how to use the edges.
My toes cramped up occasionally while climbing. But alas, this may not be a shoe thing but my own foot muscle perhaps?
The fourth toenail from the big toe turns black. That toenail died. Usually, it does not peel off automatically. If I do not remove the dead nail, a new nail grows right back on top making my toenail thicker and uncomfortable in my climbing shoes. This also happened with my other climbing shoes as well.
FEATURES & SPECS
Dual  VCR entry – Dual hook, loop straps, and velcro closure allow easy getting your foot in and out
Ultra Grip toe patch – Excellent for toe hooking
Vibram XS Grip Rubber – Soft rubber compound provides a higher level of grip in both heat and cold. Great for bouldering and sport climbing.
Synthetic upper &  leather footbed – Leather conforms to the climber's foot
Asymmetrical – Applying all the toes together as one big toe offering precision when using the edge
Downturn – The front of the shoe bends downward to grab footholds on overhangs or steep terrain.
Performance-Fit Heel – Grippy heel for heel hooking
RC-tension midsole – Side edge for precise footwork
Available sizes: US 7.0 to US 13.0

In conclusion, I love my Voltage and totally recommend these shoes to other climbers who are looking to improve their footwork in rock climbing.
I hope you find my Red Chili Voltage Climbing Shoe Review helpful. Love to hear about your favorite climbing shoes. Please leave comments below.
Please follow and like us: