Wow! What an amazing experience climbing at Red River Gorge! I heard so many wonderful comments from friends and other climbers who I met along the climbing path. I want to experience for myself what so special about this place. The two problems I have at the current moment are distance and time. It would take me at least twelve and a half hours when I drive straight from Orlando, FL to Red River Gorge, Kentucky with no getting gas, food, or bathroom breaks. We are usually able to get away primarily three day weekends. We would have to drive for at least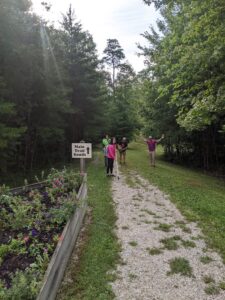 two days and climb only one day. Even driving Rambo with no stops, does not seem to be worthwhile. With my hubby and kids' schedule, we can't seem to sync up longer than 4-day weekends.
We would have to fly to make it for the 4-day weekends. We finally bit the bullet and made the flight. I was able to take advantage of the Covid 19 situations and transferred canceled flights for my cousin's wedding in California to fly to Kentucky. We scheduled a two-day climbing.
Red River Gorge is 29,000 acres with significant geological features and historical area in Stanton, Kentucky. Located in the Daniel Boone National Forest, Red River Gorge is east of the Rocky Mountains with many freestanding arches, mixed rock shelters, jagged cliffs, natural forming bridges, and waterfalls. It is known as "The Red" among the climbing community. Rock climbing, biking, and hiking are the most common activities that bring many people to the area. To learn more details about the Red River Gorge, please visit their website ==> RedRiverGorge.com.
In this article, I will share my personal experience of where to fly into, where I stayed, and where I climbed.
Where to Fly into
You may wonder what airport to fly into. Red River Gorge is a National Park so it is located out in the boonies. I found two choices for flying. For the first choice, I can fly into Lexington which is the closest commercial airport. The most common airline that flies into Lexington, Blue Grass are American, United, Delta, and Allegiant. It would take an hour to drive to Red River Gorge from Lexington. The second choice is flying into Cincinnati. It takes two hours one way to drive from Cincinnati to Red River Gorge.
Because we were using existing airline tickets, we were limited to flying into Cincinnati, Ohio. In general, it is cheaper to fly into Cincinnati than into Lexington. However, there are certainly deals available to both cities at certain times. Either way, we still have to rent a car to travel to our destination.
Where to Stay
There are VBRO for B&B, hotels, lodges, cabins, RV parks, and camping available. We stayed at Largo Linda Hideaway in one of their cabins. They do have campsites as well as cabins. We stayed in a cabin called the Bunk House which is in the campground. The Bunk House is a large room with few amenities such as four bunk beds, a sofa, a mini-refrigerator, and a toaster. I do not remember if there was a microwave. We used the refrigerator and the toaster. There was no television. There are five other cabins with more amenities. We chose the Bunk House because it was simple and the least expensive.
We shared a bathhouse with the campers. We enjoy camping; however, since we flew it was too heavy to carry our camping gear and our climbing gear on the plane.
Guides to Explore
If you don't have your own outdoor climbing gear yet, it is a good idea to climb with a guide or tag along with friends who have climbing gear. Here is an article on what gear you will need to climb for outdoor sport routes => Outdoor gear for sport climbing.
Looking for guides to help with climbing outdoor? Here are a few:
Here is a great website for accommodations: cabins and treehouses, fun activities: climbing, hiking, and zip-lining, history of Red River Gorge, guide books, and more ==> RedRiverGorge.com.
When we were there, we did not hire a guide because we have our own climbing gear. Instead, we bought two books: Red River Gorge North and Red River Gorge South. We explored on our own using these books as our guide. You can purchase them at Wolverine Publishing or you can purchase them through Amazon as well. I also used an app called Mountain Project. It is pretty useful. However, sometimes there is no phone satellite reception, the guide books are our best friends.
As the owner of this website, I tracked down special deals for some products or services mentioned herein. As an Amazon Associate, I earn from qualifying purchases. When you use the link from this page to make a purchase, I may receive a small commission, and you may receive a great bargain – Full Disclosure.
Where We climbed
Red River Gorge is huge. There is no way we can climb north and south in a week. We spent two days climbing in Red River Gorge South. We learned that most of the southern parts have sport routes while most of the northern areas have trad or traditional climbing routes.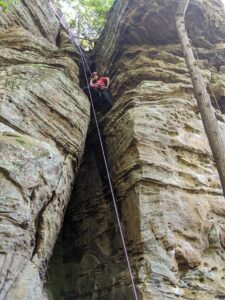 We climbed in Muir Valley on our first day. Our friends recommended Muir Valley and they were right. Muir Valley was amazing. It was like Disney World for climbing. However, dogs are not allowed which is sad. The traditional dirtbag climbers do not like Muir Valley because they have to pay a parking fee. The routes we climbed were labeled with names and grades. The hiking trails were well maintained and clearly marked. There are also flushable bathrooms for males and females. The entrance fee to park your car is $10 per day or $120 for 12 months. This fee is to help maintain the area. It is well worth it. Make sure to visit their website and fill out the online waiver before climbing. Their website is https://muirvalley.org/.
Muir Valley itself is huge. There are over 300 climbing routes and 30 crags. We spent our time mostly at the Practice Wall. We climbed Dragon's Tail (5.3 Trad), Dragon's Mouth (5.6 Sport), Creeping Elegance (5.11a Sport), Slabalito (5.7 Sport), and Short & Sweet (5.7 Trad).
For our second day, we visited PMRP (Pendergrass-Murray Recreational Preserve). This preserve is a 750-acre region owned and maintained by the Red River Gorge Climbers' Coalition (RRGCC). It contains over 500 sport and traditional routes from 5.6 to 5.14. To access PMRP, a 4WD is recommended. Before climbing at PMRP, we must submit a waiver. Please visit RRGCC.org to fill out an online waiver. Dogs are allowed and must be leashed or under the direct control of their owners if not leashed.
We arrived at a crag called Gold Coast and climbed The Perfect Pint (5.4 Trad), Lucky Duck Soup (5.5 Sport), Sunny the Boxer (5.9 Sport), Norway on My Mind (5.9 Sport), and Peer Review (5.10b Sport). Peer Review was rated for the worst route in the Red. Because it was rated the worst, my son wanted to try it. After he climbed up two bolts, he decided it was not worth pursuing further. He agreed that it was the worst route. No one else tried.
Conclusion
We barely touched the surface of climbing at Red River Gorge in two days. It would be nice to be there every weekend for a year to explore further. If you are there, don't forget to visit Miguel's Pizza Restaurant. It is the landmark for climbers at The Red. Support the locals.
My whole family and our friend Josh had an amazing time. We were there Labor Day weekend, the end of August, and the beginning of September so the weather was perfect and no rain. It was not too cold or too hot. We now have a small taste of what "The Red" has to offer. We will definitely come back for more.
Have you been to "The Red"? I love to hear about your outdoor climbing experience. If you have not climbed outdoor yet, please send me your questions as well. Looking forward to hearing your comments or questions below.
Please follow and like us: