Wondering what to wear for rock climbing? Are there rock climbing apparel available? For the most part, you can wear anything that is comfortable to work out in. I find that rock climbing culture is very relaxed and laid back. It has a certain surfer, skateboarder, or mountain biker ambiance.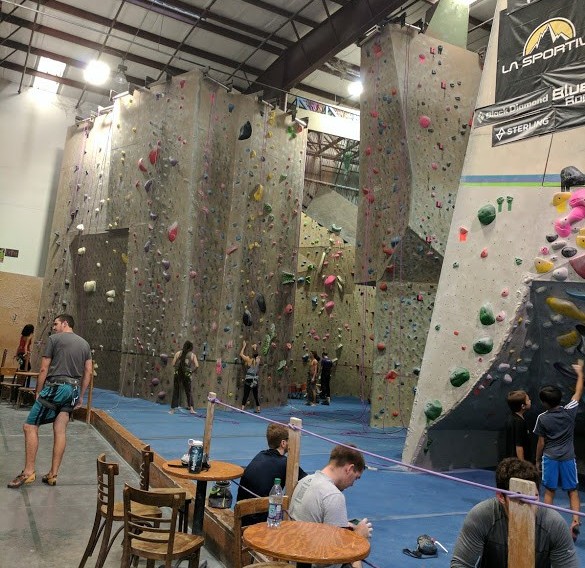 As the owner of this website, I tracked down special deals for some products or services mentioned herein. As an Amazon Associate, I earn from qualifying purchases. When you use the link from this page to make a purchase, I may receive a small commission to support this website, and you may receive a great bargain – Full Disclosure.
Tops
Most women climbers wear yoga tank tops with a sports bra underneath showing off their defined shoulders and back. The back of the tank top would be the racer or nice crisscross weaving back design.
The most popular tops are opened in the back to reveal the different intricate designs of the latest sports bra. The yoga tops are great to wear for other work out as well as climbing indoor gym.
For outdoor, I like to seek more protection from the sun and the rocks with a lightweight form-fitting blouse. I would often wear a sports bra underneath for support.
In general, I see a mixture of men wearing tank tops or t-shirts of their favorite music band, sports, or movies. Some men do not wear a shirt at all.
The materials that most people seek are moisture-wicking materials to keep you cool and dry, thin, lightweight, and stretchy. SPF and/or waterproof are included in the fabric would be nice when climbing outdoor. However, the price will increase with more options.
Pants
For women, leggings or yoga pants are great for climbing. Most women want pants to hug the legs and not too dangly. We do not want anything to obstruct our feet and prevent us from stepping up or jumping to the next move. I like my tights to be open at the bottom with the Capri cut (calf-length).

I do not like to climb in shorts because I get scraped up pretty easily against the artificial rocks as well as real rocks. I find tights are much more protective and at the same time not in my way when I climb.
For men, I see some with shorts and some with pants. My husband personally loves to climb in Kuhl's shorts indoor or outdoor. Those shorts are pretty snazzy multi-functional, lightweight, and durable. It forms well to his bottom. No complaints from me. My son differs. He loves climbing in pants. He gravitates toward the prAna brand where the pants are slightly stretchy and light which allows him to move freely from one hold to the next.
Shoes
Since we use climbing shoes, most climbers wear flip-flops to the gym or hiking shoes/tennis shoes to hike the crag for outdoor climbing.
Socks

Personally, I do not wear socks with my climbing shoes because my shoes are usually tight so that I can feel the rocks with my feet. I take them off after every climb. However, some women or men prefer to wear thin socks because without socks their feet could get smelly. Here is an article review about socks to wear or not to wear ==> Socks for Climbing.
Towels

Some people like my husband can sweat profusely at times when he is climbing a challenging route. We would see droplets of rain from above dripping down to the matte and it is not raining outside. A thin and light towel would definitely come in handy.
My Personal Conclusion
Rock climbing apparel is generally very relaxed and comfortable. The current trend for women is yoga tank tops and tights while for men tank top or t-shirts with shorts or comfortable pants.
Yes, I also wear a yoga tank top and tights. On my lazy day for climbing, I slip on a simple cotton t-shirt and a pair of tights at calf-length. It does not have to be complicated as long as I am comfortable. For now, that is pretty much the gist of my world of apparel for rock climbing.
Please follow and like us: